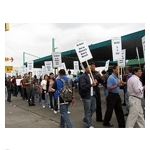 Verizon buildout commitments will be one of several key focus areas as the company's union members get set to strike beginning Wednesday morning at 6:00 a.m. Although Verizon has been negotiating with unions representing between 36,000 and 39,000 workers in the eastern U.S. for months, the parties have been unable to reach an agreement on a new labor contract. And according to union representatives, Verizon's reluctance to deploy high-speed broadband FiOS service more broadly is a key point of contention.
"Consumers and communities are being ignored," said Dennis Trainor, vice president for the Communications Workers of America (CWA) — one of two unions that plan to strike against Verizon — on a conference call with reporters today. "Millions of customers are stuck with crumbling copper networks."
According to union officials, Verizon committed to deploying high-speed broadband in several states in exchange for deregulation but has not met those commitments. If the company were to deploy FiOS more broadly, that could mean greater job security for Verizon union technicians.
The impending strike is unlikely to be averted unless Verizon "reconsiders its shameful demands," said Chris Shelton, president of the CWA on today's press call.
The other union poised to strike against Verizon is the International Brotherhood of Electrical Workers, which represents approximately 10,000 Verizon workers. With a total workforce of 177,750, Verizon also has many non-union employees.
Verizon Buildout Commitments – and Beyond
In a press release issued after the unions' press call, Verizon Chief Administrative Officer Marc Reed argued that it was the unions that have failed to "constructively engage at the bargaining table."
The press release did not reference Verizon buildout commitments, but noted that the company had offered a 6.5% wage increase over the term of the contract, access to "quality and affordable healthcare benefits," and competitive retirement benefits including a 401K with a company match.
Union leaders on today's call noted that they were prepared to accept reductions in healthcare benefits and did not raise objections to the wage increase proposed. Instead they said they had hoped that in exchange for union concessions about healthcare, Verizon would be willing to offer a higher level of job security.
Instead IBEW President Lonnie Stephenson said Verizon wants to outsource more jobs and require technicians to work away from home for "upward of two months."  One union worker on the call argued that the company may have deliberately added the requirement to work away from home as a means of encouraging workers to quit.
As usual amid labor disputes, Verizon emphasized how much an average union worker earns, while unions emphasized how much Verizon earns. According to Verizon, the average union worker's current wage and benefit package is $130,000 annually. According to the unions, the company is earning profits of $1.8 billion monthly in 2016 – an increase over 2015.
I'm sure we'll hear more rhetoric of that sort as the strike unfolds. It will also be interesting to see how much attention the topic of Verizon buildout commitments gets. The company has sold off large parts of its landline business, has cut back on FiOS buildouts and was the only major incumbent carrier to turn down the entire amount of funding it was offered in the Connect America Fund program (other than the money it accepted on behalf of Frontier for states where Frontier was purchasing Verizon's landline business.)
A possible explanation for these decisions lies in today's press release, which states that the wireline business that union workers support contributes 29% of Verizon's revenue but less than 7% of the company's operating income.
Image courtesy of flickr user GrahamKing.