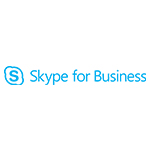 News from Microsoft illustrates a changing competitive environment. In this environment, a software company like Microsoft can more easily compete with a telecom carrier for hosted PBX or unified communications (UC) services. And that's exactly what Microsoft intends to do with the new Skype for Business.
Companies have had the ability to use Skype as an alternative for business communications for some time. But new upcoming features will make Skype easier and more compelling as a replacement for traditional and emerging unified business communications. These new features include integration into Microsoft's hosted Office 365 business apps suite and the inclusion of PSTN connectivity.
Office 365 and PSTN Integration
The new Skype for Business replaces Microsoft Lync, which was Microsoft's unified communication platform. This new platform will now integrate seamlessly into Office 365, allowing users to now do voice, video, IM, and conferencing directly from their familiar office software suite that includes email, MS Word, MS Excel, and MS PowerPoint.
Perhaps the more interesting development with this new Skype platform is the integration of PSTN phone numbers. Using telephony partners AT&T, BT, Colt, Equinix, Level 3 Communications, Orange Business Services, Tata Communications, Telstra, Verizon and Vodafone, Skype will now offer direct connections to the PSTN. This means businesses can use the PSTN and obtain phone numbers directly from Microsoft for their business communications needs. Microsoft promises a landline calling preview for Skype for Business later this summer.
Unified Communications Vision
With Skype for Business, Microsoft is trying to enable a business communications transition that involves more mobile and video collaboration, rather than just traditional handsets sitting on everyone's desk. In this new unified communications realm, business workers are using their smartphones, wearables, tablets, and laptops to establish calls, video calls, conference calls, and IM sessions on the fly. Who needs a desk phone in this environment?
With Skype for Business and Office 365, Microsoft hopes that businesses will decide they don't need an additional PBX or a hosted UC platform. They want to be that hosted UC platform. This platform will be hosted and distributed across 37 global data centers.
"This means Office 365 can be used for all your conversations—written, audio and video," says Zig Serafin, corporate vice president for the Skype for Business team in a blog post announcing the new approach. "The Office 365 Skype for Business voice and video services are based on an intelligent real time network, spanning Microsoft's global data centers, to deliver secure, high quality voice and video traffic at the speed of light across the globe."
The integration of Office 365 and Skype for Business is a sign of the times, where competition now comes from all directions. Business and unified communications is one of the most promising business lines available to telecom carriers. Microsoft and others recognize that potential as well and their pursuit of it will only intensify.