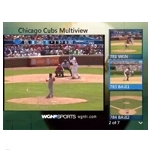 I began covering IPTV back in 1998 when I was employed at NTCA. There was this small company based in Reno, Nevada called SourceNet who was interested in talking with NTCA members (who are rural telcos) about this software they had that let's phone companies deliver multichannel video over DSL and compete with cable companies. I was amazed at the technology.
SourceNet went on to become Myrio, which at one time was the premier middleware platform for North American IPTV providers. In the months and years that followed, I sat through many a PowerPoint presentation that outlined this coming wave of IPTV and the promise it offered phone companies.
Many of those slide presentations talked about how IPTV could offer a better sports viewing experience. Its use of switched digital video, where only the channel selected at any given time was streamed to individual subscribers rather than all channels being broadcast to every subscriber afforded IPTV operators options that their competitors would have a hard time replicating. One application that was always cited was viewer selectable camera angles for sporting events, basically allowing subscribers to be their own director and choose their own camera angle for sports broadcasts. I always thought that would be very cool.
So here we are in 2010 and that promise is indeed reality. AT&T just announced a Multiview app for Chicago Cubs home games, where subscribers can choose from four different camera angles. "With Chicago Cubs Multiview, fans will get a full-field look at this season's home game action from WGN. It's like you're sitting in the production booth and calling the shots. We're excited to deliver this new capability with WGN, all enabled by our advanced TV service and technology," said Dan York, president of content, AT&T in a press release.
The service is offered to AT&T U-verse TV customers in Chicago free of charge. It's not AT&T's first Multiview application, and they're not the only video service provider offering such a service. DirecTV offers similar capability (albeit not as a robust) for special events. For me though, this latest Multiview incarnation best represents all of those promises I heard so many years ago.
These types of applications are exactly what video service providers like AT&T need to offer, not only to differentiate themselves over other video competitors, but also to continue to add value to the subscription video business model as a whole.