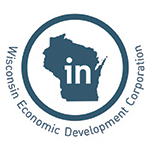 The Wisconsin State Telecommunications Association and Wisconsin Economic Development Corporation have created an interactive map plotting business parks in the state where gigabit broadband connectivity is available, illustrating the importance that high-speed broadband service has become to business site selection.
At its launch, the map plots 130 business parks located in territories served by telcos that are WSTA members, explained WSTA Executive Director Bill Esbeck in an interview. WSTA members primarily are small independent rural telcos but also include TDS Telecom and Frontier. Data from larger companies such as AT&T, CenturyLink and Charter Communications that serve metro and other areas of the state currently aren't in the database but Esbeck expects them to be added.
"From here on out we will add more sites," Esbeck said. "A continuing effort will be [ongoing] to get more providers to offer [information about] where their service is available."
To be included in the database, a business park has to have fiber into the park and has to have electronics in place to support gigabit service, Esbeck explained. "If a lot needs a drop into the building it may take a couple of weeks," he added.
The Wisconsin Interactive Broadband Map
"This is a real economic development tool," observed Esbeck about the Wisconsin interactive broadband map.
The WSTA/ WEDC announcement notes that a 2008 survey of site selection decision makers from Area Development Magazine found that broadband was the 21st most important criteria. But in the same survey conducted in 2013, broadband had risen to fifth place.
A similar study by Site Selection Magazine found that 55% of site selectors request information about broadband as part of a standard site survey and 40% of site selection decisions involve specific broadband speed requirements.
Esbeck noted that several Wisconsin industrial parks have 100 Gbps service available to them as a result of deployments made by Wisconsin Independent Network (WIN), a statewide fiber network and a member of Indatel.