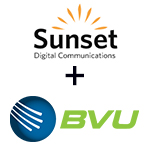 A planned municipal broadband sale of BVU Optinet is in jeopardy, thanks to a disagreement regarding wireless tower assets. One of the early pioneers in municipal broadband, Bristol, Virginia based BVU Optinet was put up for sale back in February 2016 for $50 million to Sunset Digital Communications.
That deal may now be in trouble, according to a report in the Bristol Herald Courier. A government oversight board, the Virginia Coalfield Coalition (VCC) approved the sale of BVU Optinet to Sunset Digital, but with conditions that Sunset now objects to. The board wants operational control of the wireless tower network currently operated by BVU Optinet transferred to a different service provider, Scott County Telephone Cooperative, according to the report.
BVU operates 22 wireless towers throughout the region, and is valued at $14 million, according to the report. There is a difference of opinion between the VCC and Sunset as to whether the tower network was a part of the original $50 million deal. Sunset Digital is calling foul, and says that condition could kill the deal.
"Those are conditions that we [previously] said were not acceptable," said Jeff Mitchell, an attorney for Sunset Digital who was quoted in the Bristol Head Courier report.
VCC owns the fiber network, connecting the towers and prefers that Scott County Telephone Cooperative take operational control. Scott County already operates a tower network in the region. Sunset Digital is a regional broadband provider serving the rural Virginia-Tennessee region.
It's a complex issue, involving multiple government commissions, agreements, and financial conditions. It highlights the potential difficulty of selling or transferring publicly-owned or controlled networks to the private sector. Get more details here.