The wireless industry is undergoing a significant shift in the distribution of devices used on their networks. Equipment installment plans (EIPs) are taking hold, replacing the historical model of subsidizing devices with term contracts. Both carriers and equipment manufacturers are embracing the new EIP model, with interesting implications.
Apple recently unveiled an EIP program for the iPhone, decoupling the device from the wireless carrier. Their plan promises customers a new iPhone every year in exchange for a monthly payment of at least $32. Samsung is expected to follow suit with their Galaxy smartphone line. There is considerable debate regarding these moves, with potentially negative consequences on wireless carriers.
Wireless carriers have also introduced the new method for distributing devices for use on their network. Sprint, T-Mobile, and Verizon have all capitalized on the release of the iPhone 6S to promote their own EIP program. Indeed EIP and leasing/financing device purchases are changing the game for the wireless industry, with both risks and benefits involved.
With Benefits Comes Equipment Installment Plan Risk
One of the benefits of EIPs appears to be subscriber growth, at least initially. T-Mobile has shrewdly used an EIP strategy to help them achieve the fastest subscriber growth rate of late, among the big four carriers. That's one reason why their competitors have introduced similar plans. There are also some financial benefits for using EIPs.
It allows wireless carriers to book the revenue of the device at the time of the sale, resulting in higher equipment revenues than under the previous subsidized model. It also allows them to do some "financial engineering" by using the EIP payments as collateral to raise cash or finance debt.
"All of the big carriers are likely to use equipment as collateral for financing in 2015, Jefferies Group LLC equity analyst Mike McCormack wrote in a February research report," reports Bloomberg Business in a recent article.
But with opportunities come risks as well. Perhaps the largest risk is the bad debt potential associated with EIPs. If customers stop paying the bill on that shiny new $650 iPhone, what's a carrier to do? T-Mobile was one of the first carriers to embrace EIPs and is working to mitigate risk. They set aside $106 million in 1Q15 for credit losses associated with EIPs, adding to a reserve that totaled $433 million as of March 31st, according to the Bloomberg Business report.
"These EIP offerings subject us to increased risks relating to consumer credit issues, which could result in increases to our bad debt expense and potential write-offs of account balances under the EIPs," said T-Mobile in a recent SEC filing.
Carriers are also embracing technology solutions to mitigate equipment installment plan risk. There are now solutions on the market that allow carriers to remotely disable devices should a customer stop paying on their EIP.  SecurityCoverage and Conversa Solutions recently introduced siperLOCK, targeting regional wireless carriers with a device locking solution.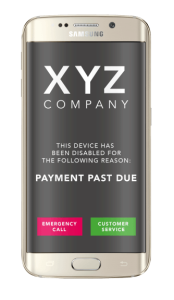 "Regional carriers do not have the capital to support EIP programs like the Tier 1's do and the amount of collections weighing them down is extraordinary," said Robert Reed, President of Conversa Solutions LLC in a press release. "siperLOCK enables the regional carriers to secure their assets until the customers have fulfilled their EIP financial commitment."
It's too early to determine the full impact of EIPs. But there are clear early benefits and associated risks. The continual innovation and attractiveness of wireless devices will always draw in customers. Will EIPs become the new norm for the wireless industry? Stay tuned.