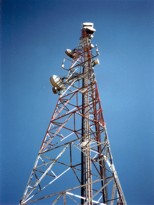 Part of wireless service's dirty little secret is that only a small portion of a wireless call is actually carried "wirelessly." The reality is, once that wireless call hits the wireless tower, the majority of the call is transported over good old, dependable wirelines. Pivot Media, parent company of Telecompetitor, hosted a webinar focused on wireless backhaul opportunities yesterday. The webinar is part of the Rural IP Transformation webinar series, produced by Pivot Media and sponsored by Alcatel-Lucent, which focuses on the transformation of local telecom service providers into integrated communications carriers, with IP technology at their core. Several interesting points were covered in yesterday's webinar:
wireless backhaul will be about a $16 billion business by 2009
wireless carriers are confronted with escalating backhaul costs due to an explosion in wireless data traffic
unlike voice traffic, data traffic is not easily recoverable from an end user revenue perspective – meaning more data traffic equates to more operational expense for wireless carriers, but not necessarily more revenue, making backhaul cost reduction a priority
wireless backhaul is a mult-billion dollar opportunity for wireline carriers, who can offer transport services to wireless carriers
the move to Ethernet/IP as a transport method is well underway, and whoever can capitalize on that stands to gain
From a competitive standpoint, I was struck by the opportunity for wireline carriers. All things being equal, wireless substitution is a pain in the side of wireline carriers, so approaching wireless backhaul may be a hard pill to swallow – why facilitate your own demise, some might ask? But the contrarian view says, wireless substitution is a "genie out of the bottle" circumstance – there is no going back. So why not try to at least capitalize on it, and replace some lost revenue caused by wireless substitution with wireless backhaul revenue opportunities. To do so, wireline carriers will have to ensure their transport networks have the requirements and needs of wireless carriers in mind. You can find out what those requirements are by watching an archived version of the webinar.