Windstream is now offering its wholesale, long-haul fiber network access via Switch Connect, a portfolio of networking and business management systems and services hosted at Switch data center campuses in Las Vegas and Tahoe-Reno, Nevada and Grand Rapids, Michigan. The deal with Switch expands the reach of Windstream Wholesale fiber services to include market territories and customers outside its present service footprint.
"Adding Windstream Wholesale to Switch CONNECT and leveraging their significant, rapidly expanding national on-net footprint gives our customers great high-speed connectivity options to securely access our superscale campus locations across the U.S., as well as any location within the Windstream footprint," Switch VP of Connectivity Sales Scott Gutierrez explained.
Windstream Wholesale
Switch customers now have access to Windstream's fiber network, which spans 147,000 route-miles across the U.S., as well as Windstream Wholesale's carrier solutions. These include:
Optical Wave services at bandwidths up to 100Gbps
MEF 2.0 Certified layer 2 E-Access connections at bandwidths up to 1Gbps
MPLS service with bandwidths up to 1Gbps
Dedicated Internet Access (DIA) at bandwidths up to 10Gbps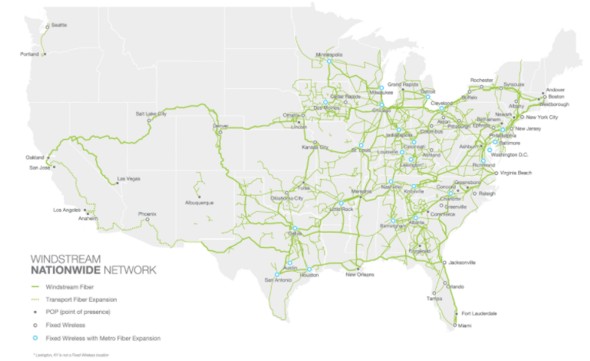 "The addition of Switch's dynamic, world-class facilities to Windstream Wholesale's network is a significant strategic investment for us, as we continue broadening and expanding our solutions to meet the increasing bandwidth capacity demands of today's 'always on, always connected' world," said Windstream Wholesale VP of Sales Joe Scattareggia in a press release.
"Partnering with Switch – a recognized world leader in colocation design, development and mission-critical operations – brings even greater connectivity options to wholesale and large-scale enterprise customers across the United States as they seek to grow and expand their own network capabilities."