R
oughly a year after completing their acquisition of enterprise and wholesale focused network provider EarthLink, Windstream has launched new Windstream Enterprise and Wholesale brands. Windstream is aiming to transform their overall business and a brand refresh helps with that focus.
Like many traditional telephone companies, Windstream has embarked on a diversification path, taking them away from legacy telecom services, towards more business, enterprise, and wholesale opportunities. A main strategy of this transformation has been through acquisition.
Windstream acquired EarthLink for $1.1 billion in February 2017, gaining 145K route miles of fiber and a sizeable enterprise and business customer base. The EarthLink acquisition was soon followed with a $227.5 million acquisition of Broadview, which added an extensive unified communications product portfolio and 20K business customers.
The goal is to lessen dependency on consumer-based revenues and become a business and broadband-focused company that also happens to serve mostly rural consumers. Windstream's last reported financials (3Q 17) show that of their total revenue of $1.5 billion, roughly half, or $727 million came from their wholesale and enterprise business units.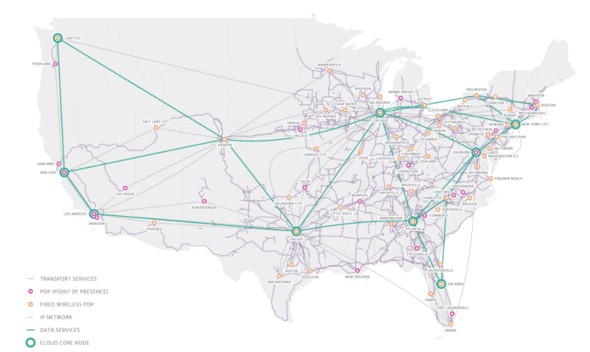 "We are a fundamentally different company today than we were a year ago and we will continue to evolve," said Layne Levine, president of Windstream Enterprise and Wholesale in a press release. "We transformed our business model, creating a culture based on doing things differently and driving innovation in our own company so that we can help customers drive innovation and transformation in theirs."
[embedyt] https://www.youtube.com/watch?v=xn6JBkHNbSA[/embedyt]
Windstream reports they've made significant investments to build a 'Cloud Core' architecture, from which they will focus on four key IT imperatives for their customers – providing cloud connectivity, elevating customer experience, enabling employee collaboration, and enhancing security and compliance.
"The services of EarthLink and Broadview Networks are now fully integrated into the cloud core architecture and the new brand strategy," Windstream noted in their press release.