Recently bolstered by its Broadview acquisition, Windstream is pairing its unified communications as a service (UCaaS) with its SD-WAN solution. Thanks to Broadstream, the Windstream UCaaS portfolio is now 100% cloud-based, targeting business customers from SMBs to the enterprise.
The two services are among the hottest business trends offered by carriers today, so some of this is good marketing spin, in addition to some practical real world value. SD-WAN services provide some additional flexibility, scalability, and control over previous business network connectivity options like MPLS. By utilizing SD-WAN as the underlying connectivity for UCaaS services, customers gain better control and performance important to the phone, contact center, chat, video and collaboration applications delivered by the cloud-based service, according to Windstream.
SD-WAN accomplishes these benefits through its software-defined management approach, allowing a centralized location to monitor, control, and manipulate all the elements of a business wide area network. Previous options required multiple touch points in the network, including potentially managing the various routers, firewalls, and switches independently. SD-WAN services often claim the ability to provide 100% SLAs, which in theory means no downtime, an important feature when you have real time communications flowing over it.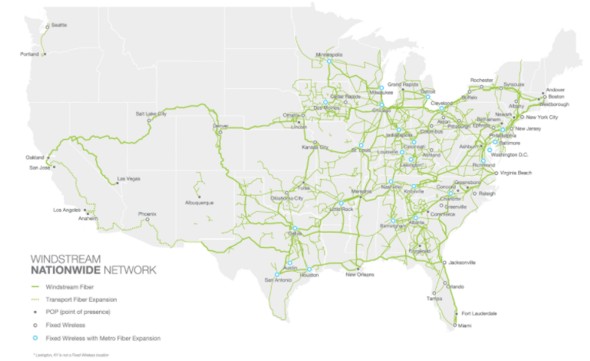 "OfficeSuite blends user-centric technology and award-winning products, services and support to offer the most secure and flexible communications solution for businesses of all sizes, including small business and scaling to mid-market enterprise customers," said Brian Crotty, president of Windstream's Mid-Market and Small Business division in a press release. "Combining this with SD-WAN will allow existing Windstream customers to transform their business with powerful cloud technology."
The Windstream UCaaS OfficeSuite platform serves over 250K users nationwide, according to the company. A Windstream spokersperson declined to reveal how many SD-WAN customers Windstream currently serves. This pairing of UCaaS and SD-WAN is available across Windstream's entire footprint, the spokesperson confirmed.