Windstream's focus on SDN services is intensifying, with an announcement today of a growing market footprint. Windstream SDNow markets now number 50, including major cloud connectivity and peering locations across the U.S., the company reports.
Marketed as Windstream SDN Orchestrated Waves, or SDNow, Windstream is counting on the SDN-based platform to help differentiate the company's enterprise and wholesale services from a crowded field. Windstream's CEO recently commented that other SDN-based services are causing Windstream to rethink their entire approach to the business segment.
With SDNow, Windstream can now leverage multi-vendor service orchestration and automated provisioning, allowing customers to order 10G point-to-point circuits for 1,500 long-haul route combinations, with delivery in 20 days, the company reports. Windstream says these enhancements lay the groundwork for future innovations that will include on-demand and 'calendared' bandwidth options.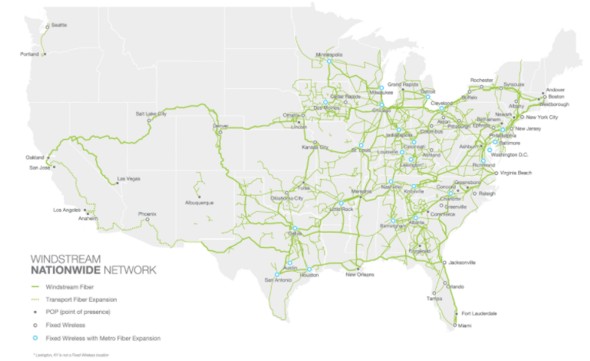 "This SDNow expansion brings the benefits of SDN-provisioned service to even more transport customers across our national footprint – a definite game-changer for Windstream," said Joseph Harding, executive vice president and enterprise chief marketing officer at Windstream in a press release. "With its accelerated 20-day service delivery, SDNow will allow Windstream customers to advance their cloud migration and digital transformation efforts with the increased speed, agility and efficiency required for business innovation and success."
On-demand bandwidth, across different vendor platforms, and even across different networks is one important goal of SDNow Windstream aims to demonstrate this evolving vision at next month's MEF17 Proof of Concept (PoC) Showcase, which will be held Nov. 13 to 16 in Orlando.
This post has been updated to reflect Windstream SDNow services over SD-WAN.