Windstream is marking the first half of 2020 with a fiber broadband milestone of adding 100K new fiber locations so far this year. Branded as Kinetic Internet, Windstream also marked 40K net new broadband subscribers so far this year, although those numbers include non-fiber broadband subs.
The Little Rock, Ark. based carrier has committed to invest billions in its broadband network as it exits Chapter 11 bankruptcy, scheduled to take place in August. That investment strategy is aided by a settlement with Uniti, Windstream's REIT partner, for a $1.75 billion investment in Windstream's network.
Windstream hasn't officially reported on 2Q 2020 results yet, but it looks like the carrier had an encouraging quarter. Windstream reported 18K net new broadband adds in 1Q 2020, so by my math, it added around 22K in 2Q 2020.
That would be a considerable year-over-year improvement from 2Q 2019's net new broadband adds of 1.9K. The milestone marks nine consecutive quarters of broadband growth, the company announced.
"Kinetic by Windstream is stronger than ever," said Jeff Small, president of the company's consumer and small and midsize business segment in a press release. "Our fiber investments are accelerating Kinetic's broadband subscriber growth and equipping our rural communities to take advantage of greater opportunities to work from home, experience virtual learning and enjoy premium entertainment."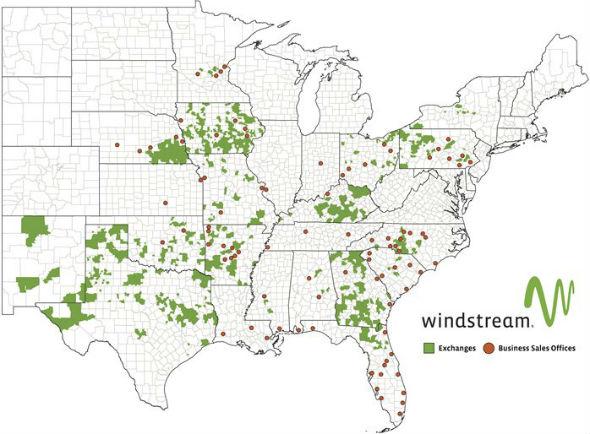 As of the end of 1Q 2020, Windstream reported that 70% of ILEC homes can receive speeds of up to 25 Mbps, and 43% can receive speeds of up to 100 Mbps. Where it offers gigabit capable speeds, Windstream only has a 15% penetration, highlighting its growth opportunity. The carrier highlighted Windstream fiber availability to 100K locations back in January of this year, citing upgrades to 1.9 million locations.
Not Just Windstream Fiber
Windstream fiber growth isn't all that's fueling its broadband ambitions. The carrier is also active with fixed wireless. Windstream won spectrum in a 5G spectrum auction last year in the 24 GHz and 28 GHz bands.
At the time, the carrier said it intends to use the spectrum to eventually reach 5 million locations with fixed wireless, with two million of that total outside of its traditional territory. Windstream has also successfully qualified for the upcoming CBRS auction.