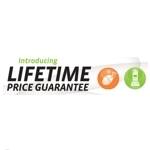 Windstream announced the launch of their Lifetime Price Guarantee promotion. Clearly hoping to seize on today's economic climate, the new promotion "gives residential customers the guarantee and peace of mind that the price for their bundled service will never increase." The tactic has also been introduced previously by companies like Cincinnati Bell, Verizon, and Comcast.
To qualify for the promotion, customers must subscribe to at least one new bundled service. Bundles for the promotion begin at $49.99 for up to 3 Mbps of high-speed Internet and unlimited nationwide calling. Bundled pricing varies for the promotion, depending on which services are selected, including their 12 Mbps Internet tier.
With this promotion, Windstream digs at their cable competitors and their perceived inflationary pricing legacy. "Cable companies and other competitors are frequently increasing their rates, and Windstream believes that our customers deserve stable rates and a great value," said Ric Crane, Windstream executive vice president and chief marketing officer.