Windstream reported quarterly financial results today and on a conference call with investors, company CEO Tony Thomas highlighted the growing importance of Windstream fixed wireless efforts. While fixed wireless is a relatively small contributor to revenue for the company today, Thomas sees it growing into the low double digits, and therefore significant.
"People will be surprised at what fixed wireless can do now," Thomas said, citing significant technology advances for the service from just ten years ago. "Its advantages include 100x to 300x coverage over fiber."
Windstream fixed wireless expanded into nine additional markets in 1Q17, including Atlanta, Denver, Omaha, and Tampa. It's now available in about 44 markets and primarily targets business customers. It offers carrier-grade Ethernet connectivity via digital microwave technology, according to the company.
Windstream leverages fixed wireless for its Diverse Connect product, which offers an end-to-end circuit service level agreement (SLA), a differentiator cited by Thomas on today's call.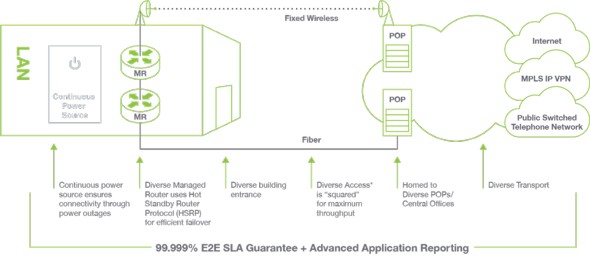 Fixed Wireless Renaissance
Fixed wireless is gaining prominence outside of Windstream as well. Google fiber acquired fixed wireless provider Webpass, which targets MDUs in multiple markets. Google is thought to be exploring how to widen this fixed wireless capability as an alternative to their costly FTTP build outs.
Both AT&T and Verizon have ambitious fixed wireless plans, some of which are tied to 5G and are being touted as 'wireless fiber.' AT&T also recently outlined plans to use fixed wireless in rural markets as a part of their CAF II funded expansion.
There are also a number of start-ups who are linking their future to fixed wireless delivery of broadband to take on cable and telco incumbents.