When Windstream won a deal to provide symmetrical gigabit connectivity to the Sugar Land Skeeters baseball stadium in suburban Houston, the carrier got more out of it than the associated revenue.
"We let them tell their story in the building," explained Scott Podsim, vice president of sales for the Sugar Land Skeeters, about the Windstream Sugar Land Skeeters deal. The Skeeters are an independent baseball team not affiliated with any of the major league teams.
The connectivity that Windstream brought to the ball park supports Wi-Fi equipment that attendees can use at no charge – and signage around the park advises attendees of this and notes that connectivity is provided by Windstream.
In addition, Windstream's logo appears at first and third base. "They are the only people with the ability to brand in that big huge visual way," observed Podsim.
The Skeeters have been flexible in their dealings with Windstream. For example, Windstream initially was the stolen base sponsor, but subsequently, the partners agreed on a different opportunity. Players autographed page 35 on one of numerous playbills distributed during a game. Whoever got that playbill was invited to claim a prize – and the promotion was highlighted on the big screen with the Windstream logo during the game.
The Windstream Sugar Land Skeeters Installation
The Windstream symmetrical gigabit connection has provided more than enough capacity for Skeeters games, which average 4,500 attendees. According to Luc Sanderson, director of field operations for Windstream's ILEC in Southeast Texas, utilization has never exceeded 33%.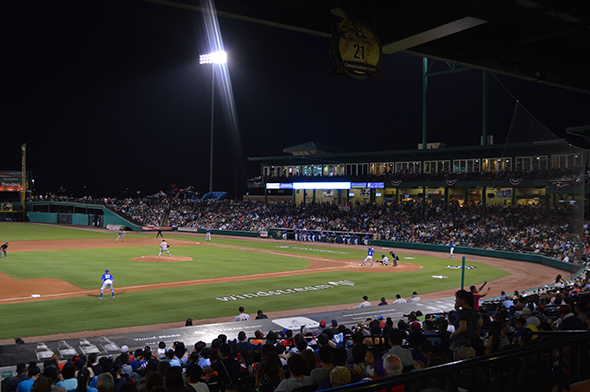 Windstream also provides content for 40 television screens located in skyboxes and in public areas of the stadium. The public televisions display other key games that may be going on, while those in skyboxes display whatever programming the fans in the skybox select. As Sanderson notes, some fans bring children, who may prefer to watch something other than the game.
Windstream has its own video offering for residential users but had to renegotiate with content providers to get the rights to display that content in the ball park.
"We had to blaze a new trail," recalls Sanderson.
Looking Ahead
The Skeeters are looking at leveraging the capabilities of the Wi-Fi network in their park to offer new promotions to attendees, perhaps starting as early as the 2019 season.
Sanderson notes, for example, that by using geofencing in combination with the MAC addresses of attendees' smartphones, the Skeeters would have the ability to identify repeat attendees and could possibly offer a promotion that would offer a free hot dog and soda or other offering when a fan attends his or her fourth game of the season.
Another option might be to do an e-gaming event before a game. Noting the popularity of video games, Podsim envisions a tournament that would involve dozens of players competing simultaneously with each other and with finalists displayed on the big screen.
While some sports teams are making deals with wireless carriers to install antenna systems within their stadiums to improve fans' wireless service, the Skeeters haven't made any such deals yet, although they have had some conversations with wireless carriers.
"There is room for a wireless company to come in and tell their story," Podsim said.