Windstream today announced a broader range of connectivity options for its Cloud Connect service, which provides connectivity to major cloud service providers including Amazon Web Services (AWS), Microsoft Azure, IBM Bluemix, Google Cloud, Oracle Fast Connect and Salesforce. Among the new Windstream Cloud Connect options are software-defined wide area network (SD-WAN) and wavelength connectivity.
Windstream Cloud Connect
When Windstream Cloud Connect was launched just over a year ago, the company offered connectivity via switched Ethernet, MPLS, VPN and point-to-point services to AWS and Azure ExpressRoute. The addition of SD-WAN is not surprising, as that service is becoming increasingly popular as a means of reducing costs while also enhancing network performance by using software to allocate traffic over multiple network connections – typically MPLS and direct internet access — depending on pre-established parameters and the state of each connection at any point in time.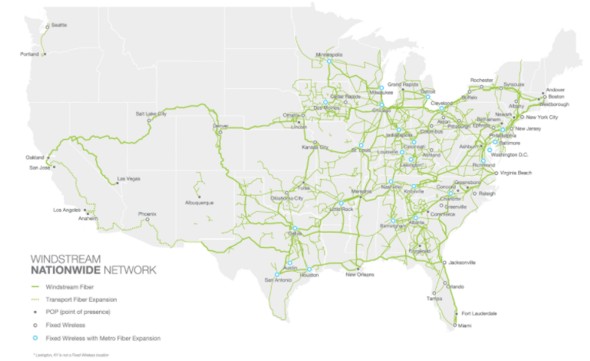 Windstream CEO Tony Thomas said recently that the company sees SD-WAN, along with unified-communications-as-a-service, as critical to enterprise growth for the company.
Speeds currently available for Windstream Cloud Connect range from 50 Mbps to 10 Gbps, the company said in today's press release. The offering is supported by technical assistance engineers who are available 24/7, the company said.
The company intends to compete, at least in part, based on cost with its Cloud Connect offering. "We are confident that Windstream Cloud Connect will deliver a better and more cost-effective experience for large and mid-sized enterprises than any of our competitors," said a Windstream executive in today's press release.