Windstream SD-WAN services have become increasingly strategic to the company in recent months. At an investor conference yesterday, Windstream CEO Tony Thomas went as far as saying "We are the leader in SD-WAN."
Windstream is in a different position with regard to SD-WAN than many of its competitors because the company isn't concerned about cannibalizing its existing MPLS business, Thomas explained.
"A lot of folks sell MPLS on their own network," Thomas said. "Most of our MPLS [services are] on someone else's network."
That means Windstream makes a better margin on SD-WAN sales versus MPLS sales and "that's why Windstream can go all-in on SD-WAN," said Thomas.
Windstream SD-WAN
SD-WAN is one of two key offerings – along with unified communications as a service (UCaaS) — that Windstream is emphasizing in the enterprise market, which has become the key focus for the company in recent years.
Thomas offered an example of the typical economics of an enterprise sale involving SD-WAN and UCaaS connectivity over Windstream's own broadband and fixed wireless network versus a traditional enterprise sale involving integrated voice and data delivered over a connection purchased from another carrier. While the recurring revenue on the modern technology solution would be $26,450 versus a slightly higher $27,000 on the traditional solution, the gross margin percentage would be 58% rather than 41%, and even the net revenue would be higher — $15,300 versus $11,000.
Economics such as this will help Windstream meet the goal of increasing its average enterprise margin from the 20% level the company experienced in 2017 to 24% this year, Thomas said. He noted that an increased emphasis on SD-WAN, UCaaS and on-net connectivity already helped drive those services to represent 45% of Windstream's total enterprise business in March – up from 35% in the first quarter of 2017.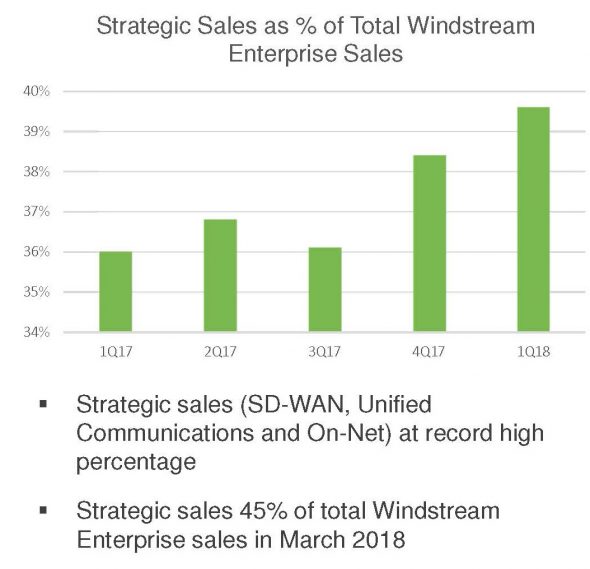 According to Thomas, SD-WAN brings as many benefits to Windstream customers as it does to Windstream.
"SD-WAN does what MPLS does but does it better," said Thomas. He rattled off several areas where he said SD-WAN provides better performance than MPLS for customers, including transparency, ability to control, security, access aggregation and others.
Thomas made his comments at the Morgan Stanley Leveraged Finance Conference, which was also webcast.