Windstream CEO Tony Thomas addressed the "elephant in the room" head on today during their quarterly earnings conference call, and it doesn't look good for Uniti. Windstream is now in Chapter 11 bankruptcy, due primarily to their network asset lease agreement with Uniti, and that lease agreement is now subject to renegotiation within the Chapter 11 proceedings.
Thomas outlined all renegotiation options, which apparently include canceling the lease outright, at least from Windstream's perspective. Windstream established an argument on today's call regarding the terms of the lease, suggesting lease payments by Windstream to Uniti are too high, based on the value of the underlying assets.
"Windstream believes the current rent under the Uniti master lease is significantly above market," said Thomas. "In the context of the chapter 11 cases, Windstream is evaluating all options regarding the Uniti lease including renegotiation, recharacterization, unwinding the lease, as well as an outright rejection of the lease."
Windstream filed for Chapter 11 bankruptcy on February 25th as a result of losing a lawsuit connected to the Uniti lease agreement brought by Windstream bondholder Aurelius. That decision obligated Windstream to a $310 million payment plus interest and opened the company to similar investor lawsuits.
Thomas argued that 54% of the assets covered by the lease are copper network-based, and the value of those assets is declining rapidly. Based on this argument, Windstream suggests that the current lease payments would have to be reduced by 80% or more at the time of the 2030 lease renewal.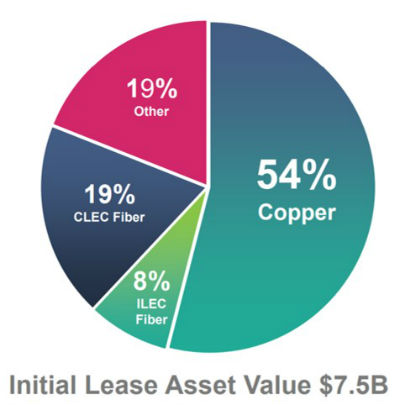 Thomas also emphasized that Windstream's investments in fiber electronics and fixed wireless infrastructure are assets owned by the company and not subject to the Uniti lease agreement. He also argued that as Windstream replaces copper with fiber investments, the lease agreement may not fully cover the long-term value of all of those new fiber investments.
"It is well understood that copper is losing its value precipitously and will likely continue to do so and that new technologies must be utilized to gain faster speeds," said Thomas. "The diversity of such new technologies such as 5G fixed wireless is an integral component of our evaluation of the current lease."
Today's discussion is, of course one-sided, representing Windstream's perspective and interpretation. It's a bit of posturing on Windstream's part for what is sure to be a court battle. We've yet to hear Uniti's perspective and interpretation, which I'd be willing to bet, is probably somewhat different.