Windstream announced a plan to bring 100 Mbps broadband to 600 markets across 12 states under their Project Excel plan. Combined with previous Windstream 100 Mbps broadband expansion plans, Windstream says, when complete, the program will reach approximately 1 million residential and small business locations.
Project Excel is being funded by the recent sale of Windstream's data center portfolio for $575 million. From these funds, Windstream is committing $250 million to invest in FTTN-fed VDSL2 technology, which will deliver the Windstream 100 Mbps service.
This Project Excel capital investment is separate from the CAF related investment Windstream is currently undertaking for rural markets. Windstream recently accepted $175 million in CAF II funding, which aims to increase broadband access to 400K locations in unserved and underserved rural markets.
These combined broadband investment efforts will bring 10 Mbps broadband availability to 88% of Windstream's footprint, 50 Mbps to 30%, and 75+ Mbps to 10%. Project Excel is expected to be complete by year end 2016.


Windstream Broadband Challenges
Windstream needs this broadband investment focus. They are taking a bit of a beating on the broadband front, much of it at the hands of cable competitors, who are rapidly improving broadband speeds and generating significant broadband net adds. To the contrary, Windstream is actually losing broadband customers.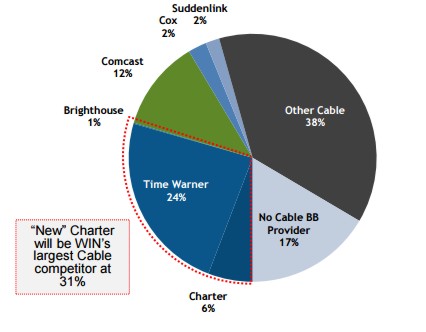 In 3Q15, Windstream lost 11.2K residential broadband customers from the previous quarter and 32.4K from the previous year. Cable companies continue to add broadband customers. Windstream sees cable competition in 83% of their markets, with a combined Charter/TW Cable as potentially their largest single cable company competitor.
Project Excel and the Windstream 100 Mbps broadband it will deliver is a deliberate attempt to address this competitive challenge.
"We expect to make progress in 2016 and even more in 2017," said Windstream CEO Tony Thomas on their 3Q15 earnings conference call today. "Given the combination of efforts we're making, not only to improve broadband speeds, but also expand our fiber network into more rural communities through CAF I and CAF II."
Recognizing the head start that their cable competitors will have, Thomas did try to temper expectations.
"Probably won't get to broadband positive in 2016, but we will reduce the loss that we saw in 2015," said Thomas. "Obviously pushing very hard in 2017 to get back on the broadband growth."