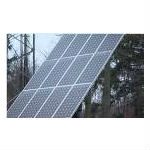 Customers of cellular network operator Cellcom used to experience a dead zone along a portion of the Sturgeon Bay shoreline off Lake Michigan in rural Door County, Wisc. To address that, the company two years ago installed a cellsite on Chambers Island, located offshore from where the problem was. (Steep cliffs prevented the installation of such equipment on the mainland.) Because commercial power was not available to the island, the carrier installed solar panels and a small wind-powered generator at the cellsite.
"Wind and sun complement each other," explained Bob Sobieck, Cellcom director of engineering, in an interview. "Sometimes when it's not sunny, it's windy."
Cellcom has been happy with the performance of the solar panels, but with increasing wireless traffic requiring higher and higher power levels, the company determined that its wind-powered generator was too small for the job.
Earlier this year, the carrier made a decision to upgrade the wind-powered generator – a goal that the company recently completed just in time to beat the winter freeze-up that prevents boats from getting to the island throughout the winter months.
The company's challenge was to find equipment that would provide sufficient power but was small enough to be installed on the company's 150-foot cell tower. After attending a local renewable energy fair, decision makers settled on a product from Spain-based manufacturer Sonkyo, whose customers include several telcos in other parts of the world. To prepare for the new wind-powered generator, Cellcom reinforced the cell tower.
The installation might have been completed earlier this year had it not been for the low water level in Lake Michigan and Sturgeon Bay this year. In order to install the new equipment on the cell tower, a crane had to be brought out from the mainland on a barge – and that made the barge so heavy that part of the bay had to be dredged to accommodate it.
The solar and wind power on Chambers Island was substantially more costly than traditional power sources, but Sobieck believes some of that expense will be recovered through more customers selecting Cellcom as their provider because they know that the company's service will work in the former dead zone.
"We're the only ones that can do that," observed Sobieck.
As small cell deployments become increasingly popular, Sobieck believes there may be other applications for wind-powered generators to be used in combination with small cells to serve locations that previously did not have coverage.
The Chambers Island installation also includes a conventional backup generator for emergency purposes.
For more information, watch this video of technicians installing Cellcom's wind-powered generator on Chambers Island: