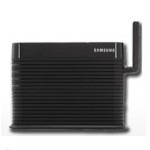 Verizon is quietly launching a new version of their femtocell solution, a product they call the Verizon Wireless 3G Network Extender. The $250 femtocell now allows voice and data offload, utilizing a subscriber's broadband network for network access, rather than the closest cell tower.
Like Verizon's previous femtocell solution, which supported voice only, this new 3G version is produced by Samsung. The solution supports up to six simultaneous voice or data calls. Calls or data traffic used through the Verizon femtocell charge against the subscribers monthly plan.
AT&T launched nationwide 3G femtocell service back in March, and even offered a 'free' option at one point for select customers. Sprint has been offering 3G femtocell service the longest, and even wholesales the offer to cable companies.
Femtocells have been slow to take off, partly because most people are not familiar with them. I think stiff pricing like the $250 Verizon is charging doesn't help the cause either. With most major carriers now offering a 3G femtocell offer, perhaps the momentum will accelerate.