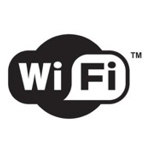 Internet of Things (IoT) devices will be the fastest growing category of WiFi devices over the next five years, according to a WiFi IoT forecast from ABI Research. WiFi was just one of several non-cellular wireless connectivity technologies that ABI studied.
Others included Bluetooth, which will be in 60% of total devices by 2021, according to ABI. Researchers also looked at technologies based on the 802.15.4 standard, including ZigBee and Thread, as well as near-field communications (NFC).
In total, ABI forecasts more than 10 billion annual global IC shipments by 2021 of non-cellular wireless communications technologies. It's important to note, though, that smartphones often incorporate several communications technologies in addition to cellular and will remain the single largest wireless electronic device product category, ABI said.
ABI's WiFi IoT Forecast
IoT market segments that will help drive WiFi IoT connectivity include wearables, automotive and smart homes, ABI said. Nonetheless, mobile phones will account for 55% of the WiFi-enabled device market come 2021, according to the ABI WiFi forecast.
WiFi connectivity is branching out to make use of new frequency bands, including 802.11ad (WiGig) and sub-1 GHz WiFi HaLow, aka 802.11ah. New market opportunities will open up as a result. These include using 802.11ad as the basis for WiFi connectivity in networking, mobile devices, computing and peripherals, ABI noted. Opportunities for 802.11ah include low-power IoT devices and wireless sensor networks, ABI said. Overall, ABI expects WiFi will be found in 47% of all wireless devices by 2021.
Bluetooth Forecast
Developments involving Bluetooth also illustrate the impact that applications of IoT technology will have on the global wireless connectivity market. ABI expects Bluetooth connectivity will be embedded in 6 in 10 wireless devices by 2021.
Mobile phones will account for less than 45% of total Bluetooth shipments as use of Bluetooth Smart grows and expands into new market segments, however. Use of Bluetooth Smart in smart home products and beacons, along with a significant presence in wearable tech, will fuel growth, according to ABI.
802.15.4 and the Smart Home
ABI also sees bright prospects when it comes to wireless connectivity in smart homes provided by 802.15.4-based technologies such as ZigBee and Thread. The market research company forecasts use of smart home wireless connectivity solutions based on 802.15.4 will grow at a 60% CAGR between 2016 and 2021.
Use of 802.15.4 will also expand in other application areas, including smart cities projects and programs, smart metering, smart lighting and industry, accounting for 28% of devices by 2021, according to ABI. Overall, however, 802.15.4 will be present in less than 9% of the device market, given it is absent in smartphones and other consumer electronic device categories, ABI notes.
Near-Field Communications
Developers continue to see significant opportunities in incorporating mobile payments via near-field communications (NFC) in smartphones and wearables, as well as secure pairing and provisioning of IoT devices, ABI notes. The growing presence of ¨combo ICs¨ will be the main driver of NFC market growth, particularly across IoT verticals, ABI continues.
"These solutions can help eliminate the need for multiple connectivity ICs, reduce complexity and cost, and give manufacturers greater flexibility in targeting multiple applications and use cases using a single SoC," ABI industry analyst Andrew Zignani stated. "Devices incorporating multi-protocol chipsets will be more future-proof and faster to market. Ultimately, this will enable greater scalability and afford OEMs more flexibility and confidence when designing a connected device."