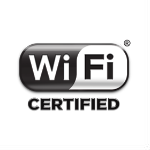 The Wi-Fi Alliance is introducing a new brand mark, Wi-Fi Certified Miracast, as it finalizes its certification program for Wi-Fi devices to support display applications. New Wi-Fi Certified Miracast devices will deliver audio and video from one device to another without cables or a connection to an existing Wi-Fi network.
Hence, Wi-Fi Alliance Miracast devices will enable users to distribute audio and video originally from a smartphone to a big-screen TV or share audio video being received on a laptop screen in real-time with multiple users participating in a conference via a projector.
"Wires are giving way to Wi-Fi in the digital home," according to a Wi-Fi Alliance press release. There were more than 1 billion Wi-Fi devices shipped in 2011. ABI Research forecasts that shipments of Wi-Fi consumer devices will increase more than 30% at a constant annual growth rate (CAGR) over the next four years.
The Wi-Fi Alliance certified nearly 1,500 digital home and mobile devices in 2011. The industry association expects to have its Wi-Fi Display Specification published in August, with testing by an authorized laboratory to prove interoperability.