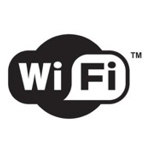 The next generation of Wi-Fi, 802.11ac, is upon us and the Wi-Fi Alliance has unveiled their Wi-Fi Certified ac program. The Wi-Fi Certified program is basically the Wi-Fi Alliance's stamp of approval for products that have passed interoperability and other testing developed by the industry standards group. Past versions of Wi-Fi have gone through a similar certification process, including Wi-Fi n. There are currently about 15,000 Wi-Fi certified devices on the market.
Wi-Fi ac addresses the growing bandwidth requirements from multimedia content. The Wi-Fi Alliance says certified 802.11ac products should deliver speeds of up to 1.3 Gbps, supporting in-home distribution of HD video. Additional specifications of 802.11ac include higher capacity for more devices to be connected to a Wi-Fi network and lower latency characteristics for better performance with multimedia and gaming.
This newest version of Wi-Fi, which operates in the 5 GHz band, may prove to give other networking standards like MoCA and G.hn some competition. The Wi-Fi Alliance is pushing the wireless option as delivering "…whole-home coverage at two or even three times the speed of older Wi-Fi products and handle demanding applications such as Ultra HD and 4K  video, multimedia, and rapid file transfer with ease." Some service providers, including AT&T, have already experimented with Wi-Fi based set-top-boxes for wireless IPTV distribution in the home using previous slower versions of Wi-Fi.
Most Wi-Fi Certified ac products are expected to be dual-band, with support for both the 2.4 GHz and 5 GHz bands. This preserves interoperability with previous versions of Wi-Fi, which is one of the reasons why Wi-Fi has been so successful. The 2.4 GHz band has become quite crowded. By moving to the 5 GHz band, 802.11ac products should get some bandwidth breathing room.  One goal for the move to 5 GHz is to move the multimedia networking heavy lifting to 802.11ac, while the 2.4 GHz versions of Wi-Fi continue to serve the more mundane networking activities like web browsing, email, and app engagement.
With the announcement of Wi-Fi Certified ac, the Wi-Fi Alliance also unveiled some research regarding the growing use of Wi-Fi. Key findings of this research include:
The number of Wi-Fi devices in U.S. households has doubled over the past five years.
There is an average of four devices now connected to the home Wi-Fi network during peak usage times.
Sixty percent of U.S. respondents indicated they are using Wi-Fi for multimedia applications more now than they were three years ago.
Among young people (18-24 years of age), Wi-Fi is more essential than traditional forms of entertainment – 69 percent of respondents in that age group said that a Wi-Fi outage would be more disruptive than a television outage in their home.
Wi-Fi ac enabled mobile devices, tablets, laptops, consumer electronics products and networking gear is expected to be available in the second half of this year, reports the Wi-Fi Alliance.