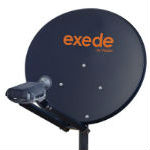 ViaSat next week will add voice service to its Exede high-speed broadband offering, enabling the company to offer a triple play of voice, video and data over satellite.  The addition of voice service to a satellite-based broadband service is likely to be viewed positively by policymakers who have been struggling with how to help cover the cost of bringing broadband to rural areas with high deployment costs.
When the FCC kicked off its plan to transition today's voice-focused Universal Service program to a broadband-focused Connect America Fund, the commission envisioned that satellite might be used for a small percentage of homes where deployment costs would be especially high. But that left the question of how those people would get voice service after the voice-focused program was phased out. ViaSat's double play of voice and data could be seen as the solution — although what would happen to the companies currently providing voice service in those areas is unclear.
Traditionally voice services have not worked well over satellite service because of the latency involved in sending signals to and from the satellite. A ViaSat spokesperson this evening promised to send additional information tomorrow morning about how the company has overcome the latency problem. Telecompetitor will publish an update when we receive that information.
ViaSat competitor Hughes Network Systems hinted last year that it would add voice capability to its HughesNet satellite broadband service some time in 2013. That company already offers satellite-based VoIP to business customers. And both ViaSat and Hughes Network Systems have said previously that VoIP works fine over their satellite broadband service.
Exede's broadband service supports 12 Mbps speeds, making it comparable to DSL. But there is a downside to satellite-based broadband services from Exede and its key competitor Hughes Network Systems in comparison with DSL and other landline-based alternatives such as fiber-to-the-home and cable modems. Unlike those services, the satellite-based offerings have usage caps.
The ViaSat spokesperson confirmed that the video portion of the company's triple-play offering will be an extension of the co-marketing deal that ViaSat already has with DirecTV.
The new ViaSat voice service will be available for an introductory price of $19.99 a month, ViaSat said. The service will include unlimited calling to all 50 states and Canada, as well as international toll calling to more than 120 countries. Also included are features such as voice mail, caller ID, call waiting, call holding, call forwarding and call return.
ViaSat's new triple play offering will sell for less than $100 a month. A double play bundle of voice and data will cost $69.98 a month.
Update- Lisa Scalpone, ViaSat vice president of satellite services, responded to Telecompetitor's inquiry, saying that the experience of using the Exede voice service is similar to using cellphone-to-cellphone service, which also has more latency than a traditional landline-based offering.
To help compensate for the additional latency of a satellite-based offering, she said ViaSat has improved voice quality by "using better codecs and really tweaking the network."
She said the company did considerable testing on the service before releasing it to the market.
"By giving it better voice quality than cellular-to-cellular, it feels more like that," she said, also noting that "we've become accustomed to cellphone-to-cellphone" service quality.
The Exede voice offering works over an Exede data link. Accordingly it is not available without the data service.