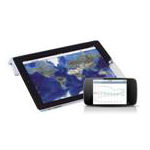 One frequently hears warnings about outsized growth of broadband access demand, the implication being that a crisis might develop if "something is not done." Some predict that 1,000 times more mobile bandwidth will be needed by 2020, for example.
Those "problems" tend not to materialize, and one has to assume the natural workings of supply and demand have something to do with that rather helpful state of affairs.
More spectrum, more efficient coding, as well as different network architectures are among the possible supply changes.
But changes in user behavior, often encouraged by tariffs, also play a role on the demand side. In other words, both suppliers and consumers are rational about their bandwidth choices, when there is a clear link between consumption and out of pocket costs.
Even if future supply were not an issue, it would still make sense to allow consumers to make choices about how much "Internet access" they really want to purchase, as that would send clear signals to suppliers about how much to invest in new capacity.
The problem with "unlimited" plans is that such retail pricing does not automatically send accurate supply and demand signals, and does not trigger the normal decision-making consumers always make when considering how much of any product to buy.
Nor do we often remember that demand for Internet access is dynamic, not static. Raise the price, and consumers will buy less, lower the price and they will buy more.
Bandwidth Consumption Realities
To an extent, changes in device profiles also make a difference, as typical bandwidth consumption on a PC is far higher than on a smartphone or a tablet. And users clearly are shifting Internet activities to smartphones and tablets. At some point, that could slow data consumption growth rates, even if, over time, bandwidth consumption grows.
Still, most users do not consume all that much data, at the moment. Demand will grow, but probably less robustly than many forecasts predict. Mobile data consumption, even among smart phone users, is well below 1 GB a month, according to Sandvine.
An analysis by the U.S. Federal Communications Commission suggested that, in the first half of 2009, the median fixed network (half used more, half used less) broadband user consumed almost two gigabytes of data per month. Mobile users consumed only hundreds of megabytes.
The "average" (arithmetic mean) user consumed over nine gigabytes per month. Keep in mind that such "mean usage" is driven by a very small set of users who consume large amounts of data.
The 2009 study suggested that, overall, per-person usage is growing 30 percent to 35 percent per year. Also, keep in mind that the FCC study does not directly correlate a single person's usage with the account details. In other words, a single user might have one access account, while a family might have three to five people sharing a single account.
So "typical" usage per account could be different from typical usage per person. As a rough metric, a typical 2.5-person household, sharing one account, might have consumed about six gigabytes a month, based on the 2009 data.
If the 30 percent annual growth rate remained intact through the end of 2012, that might imply 2014 median usage of about seven gigabytes per person, or 17.5 GB per household account, using the 2.5 persons per home assumption.
Other 2010 estimates for current consumption were roughly in the same range as the 2009 FCC figures, adjusted for annual growth. Comcast said in December 2010 that a typical user consumed about two to four gigabytes a month, far below the 250 gigabyte cap for a Comcast residential account.
That would be right in line with the FCC's base of two gigabytes, and a growth rate of 30 percent annually.
About the same time, AT&T said its typical user (account, so that in many cases is a multiple-person household) of fixed high speed access consumed about 18 GB a month. Assuming that figure also is for a 2.5-person household, per-person consumption would be about 7 GB per person.
Per capita data consumption was in 2010 about 10 GB a month, by some accounts, in France, the United States and Canada. Consumption per capita was more like 33 GB a month in South Korea, but below nine gigabytes in many other countries. But those are arithmetic averages, and less accurate than the "mean" figure would show.
Actual data consumption for most users of fixed network broadband is not all that high, in other words.
And even as demand grows, suppliers will adjust in a number of ways that both increase capacity and allow users to make choices about how much access they want to buy. Those adjustments will match supply and demand in ways that avert any potential crisis, so long as price signals are allowed to function.