By the end of 2015, we may have three OTT streaming services offering real alternatives to the traditional pay-TV model. Sling TV was first out of the gate and rumors about a looming Apple OTT streaming service persist, with the Wall Street Journal adding fuel to that rumor fire yesterday.
Add the pending Sony OTT offer, and we may have three legitimate OTT streaming services in place by the end of the year. That's some significant momentum in one year.
Apple OTT
Apple is reportedly looking to launch a "slimmed down" channel line-up of about 25 channels with a price range of $30 – $40, according to the WSJ article. That puts it in line with Sling TV's channel line-up, but with one distinct difference. Apple's OTT offer is said to include popular 'local' broadcasters ABC, CBS, and Fox (although it's not clear if it would be the actual local feed).
Noticeably absent is NBC, due to some feud or complications between Apple and NBC parent Comcast (if true, I suspect that feud might be fixed soon, per Comcast's goal of acquiring Time Warner Cable and assuaging regulator fears of their market power). Sling TV steered clear of local broadcast signals, even though they are considered "anchor" channels for most traditional channel line-ups.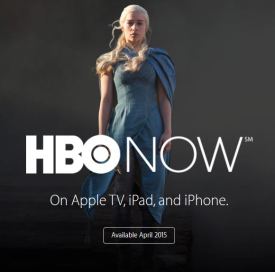 The Apple OTT offer would reportedly work across all Apple devices, including tablets and smartphones, and the Apple TV set-top-box. These rumors have persisted for years, but the exclusivity that Apple recently gained for HBO's new OTT service HBO Now indicates a renewed effort to get a broader OTT streaming service launched. The WSJ reports the service may be announced as early as June, for a September launch.
More Sling TV Content, Platforms
Sling TV announced more content to their growing streaming channel line-up. A&E, HISTORY, H2 and Lifetime will join their Best of Live TV channel line-up. That $20 per month package will include ESPN, ESPN2, AMC, TNT, TBS, Food Network, HGTV, Travel Channel, IFC, El Rey, Adult Swim, Cartoon Network, ABC Family, Disney Channel, CNN, Galavision, A&E, HISTORY, H2 and Lifetime.
Additionally, Sling launched a new $5/month package add-on "Lifestyle Extra, which includes truTV, Cooking Channel, DIY and WE tv, with A+E Networks' FYI and LMN coming soon.
Sling TV also announced the streaming service will be available on the Xbox One platform, bringing another OTT option to that gaming system. In addition to the Xbox One, Sling TV is also available on Amazon Fire TV and the Fire TV Stick; current-generation Roku players and Roku TV models; Android and iOS devices; and Macs and PCs.
Disruptive Force or Niche Play?
The next couple of years will be very interesting to watch. For the first time, we'll have legitimate pay-TV channel line-up competition from multiple cheaper OTT streaming services. Some, if not all of these streaming competitors will include decent sports content, adding to the intrigue. For example, Sling TV is pushing the availability of March Madness NCAA basketball games on their platform, thanks to TNT, TBS, and truTV carriage. How will the market respond?
Sling TV claims 100K subscribers since launch, although it's not clear how many of those 100K are actually paying for the service, due to free trials. These OTT streaming services could prove to be a disruptive force to the traditional pay-TV model, or perhaps they will just find a niche and co-exist.
Early indications suggest the broader OTT trend, which includes SVOD services like Netflix, are indeed having an impact on traditional TV, particularly on the advertising portion of the traditional TV model. Ratings for traditional TV are down and services like Netflix and Amazon Prime are to blame, say industry insiders. When ratings go down, advertisers are less inclined to pay more (or continue to pay) for TV time.
Maybe services like Sling TV and Apple OTT will bring aid to this issue, since they are streaming live channels, commercials and all. We'll have to wait and see. Regardless, these trends cannot be ignored by both traditional pay-TV operators (who stand to lose subscribers) and broadband service providers (who transport all this content). The winds of the TV and broadband business are shifting, quickly and dramatically.
Editors Note: These issues are of great importance to broadband and video service providers. We invite you to join us at the upcoming broadbandTV event, a co-located event at this year's 2015 FTTH Connect Conference in Anaheim, CA, June 30th – July 2nd. We will be putting these issues into more context for service providers and their partners.