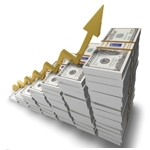 The market for value-added consumer broadband services grew 30% globally in 2009, adding an extra 37.9% to Internet providers' standard broadband access revenues, according to Point Topic research released today. "Value added services, like VoIP, security and IPTV grew more quickly than the number of broadband lines in 2009," said senior analyst John Bosnell. "The operators and ISPs are starting to increase the proportion of their revenues that they generate selling add on services for broadband and they are doing it successfully at least in revenue terms."
The run rate for consumer broadband value-added services rose from $39.6 billion to $48.9 billion last year, while the number of value-added services' subscribers increased 13%. Plain broadband subscription revenues increased 14.16%, from $113 billion to $129 billion, in 2009, while the total broadband subscriber base increased 14%, from 366 million to 417 million, according to Point Topic's report.
IP telephony, security, online gaming, IPTV and online music were the leading value-added services.
Generating the most revenue, IP telephony services that serve as PSTN replacement services, such as those offered by France Telecom and Vonage, "generate reliable subscription revenues, along the lines of the PSTN billing model," according to Point Topic's news release.
By way of contrast, IP telephony services such as Skype, which rely on individual payments to make or receive calls, generate much less in the way of revenue. "Skype is a disruptive technology and growing fast, and it is starting to account for a significant proportion of international minutes. But in revenue terms it currently remains relatively small compared to most telcos," Point Topic's analysts commented.
Greater broadband penetration and more intense competition is driving operators' margins lower and encouraging them to promote and sell bundled services, a trend that will only continue, they say.
"Margins for basic broadband access are reducing all the time. That, along with pressure from competitors, is driving operators push bundles. They help operators retain customers and increase revenues, so the importance of value-added services to operators' revenue stream increases. The increasing penetration of super-fast broadband worldwide will only fuel this significance and ISPs have to live up to their acronym and service their customers across a range of products," Bosnell stated.