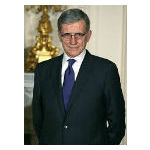 The FCC will vote in mid-July on a 5G Spectrum Frontiers proceeding aimed at opening up huge amounts of spectrum for fifth-generation wireless services, said FCC Chairman Tom Wheeler today.
"If the Commission approves my proposal next month, the United Sates will be the first country in the world to open up high-band spectrum for 5G networks and applications," said Wheeler in remarks prepared for an address at the National Press Club today. That, he said, is "damn important because it means U.S. companies will be the first out of the gate."
Wheeler said that on Thursday he will circulate the 5G Spectrum Frontiers proposal to the other FCC commissioners.
5G Spectrum Frontiers Proceeding
Standards for 5G networks are still being resolved, but the expectation is that 5G will provide dramatically higher bandwidth and much lower latency than today's wireless networks.
Wheeler did not detail the specific range of spectrum bands that he envisions for 5G. But the FCC has been exploring the possibility of opening up 3850 MHz of spectrum above 24 GHz for the next-generation wireless technology. And Wheeler did say today that the spectrum under consideration would be in the higher-frequency millimeter wave range – a plan that is in keeping with the commission's ongoing exploration and current industry thinking.
Details about the 5G Spectrum Frontiers proposal that Wheeler did share today include:
Spectrum blocks would be at least 200 MHz in width. (In comparison, today's licenses typically are for blocks that are 5 to 10 MHz wide.)
A "massive" 14 GHz block would be made available on an unlicensed basis.
Spectrum sharing will be critical, as the 5G band would include some spectrum that already has satellite and federal users "or at least the possibility of future satellite and federal users." Wheeler noted that the 28 GHz band would be particularly critical. He also praised the satellite and terrestrial wireless industries for having already begun to devise a spectrum sharing solution.
Not Budging on Business Data
5G networks are expected to rely heavily on small cells, which according to Wheeler will make backhaul connectivity even more important than it is already.
Wheeler said the FCC will address backhaul challenges through its ongoing Business Data Services proceeding. "In many areas… competition in the supply of backhaul remains limited, and that can translate into higher prices for wireless networks and then higher prices for consumers," he said.
Those comments suggest Wheeler isn't buying incumbent telecom providers' argument that the business data services market is more competitive than the FCC originally believed. Several telecom providers argued in an FCC filing last week that the commission's analysis about the level of business data services competition was flawed because it did not include widely available Ethernet over HFC connections.
An Edge for the U.S.
Being the first country to make spectrum available for 4G was important in giving the U.S. an edge in developing and monetizing that technology, Wheeler said. He argued that it is important to move ahead in opening up 5G spectrum before 5G standards are finalized.
"The main value of 5G will not be found in workshare or in intellectual property," he said. "The main value of 5G by far will be in consumption rather than production. It will be in material gains and improvements in quality of life and economic opportunity."
Wheeler highlighted Verizon's pioneering efforts involving 5G for fixed deployments. He also noted that challenges of using 5G for mobile use will be addressed through "new antennas that can aim and amplify signals, coupled with sophisticated processing."