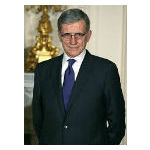 Those who had hoped that emerging higher-speed Wi-Fi technology would get a boost from new unlicensed spectrum may have to adjust their expectations. Remarks made by FCC Chairman Tom Wheeler this week suggest that the amount of unlicensed spectrum resulting from the upcoming auction of TV broadcast spectrum will be at the lower end of what has been proposed for that spectrum band.
In his remarks at the Brookings Institution in Washington, D.C. Monday, Wheeler also opened up the possibility that other spectrum could be made available in the 3.5 GHz band, which he referred to as an "innovation band." Wheeler said he plans to circulate a proposal soon that would outline how the 3.5 GHz spectrum could be shared between commercial users and the government users, who currently control that band.
The unlicensed spectrum conundrum
"Our instruction from Congress . . . is that the spectrum reallocated from broadcast licensees must be made available for auction," said Wheeler in remarks prepared for the Brookings Institution address.
As a result, Wheeler said the spectrum that will be available for unlicensed use will include Channel 37, the guard bands, and TV white spaces.
TV white spaces are already available for unlicensed use but are not consistently available nationwide. Channel 37 for years was reserved for government use but new database technology may enable unlicensed users to use it in areas where the government is not using it.
The upshot is that the only truly new unlicensed spectrum will be the guard bands.
Guard bands would likely be at the upper and lower ends of the swath of broadcast spectrum freed up for auction. Wheeler did not specify how wide the guard bands would be but bands in the range of 5-6 MHz have been proposed.
Assuming one of those options is chosen, the total amount of new spectrum would be 10-12 MHz. That's considerably less than the 24-30 MHz advocated by boosters of new higher-speed WiFi technology based on the 802.11af standard.
The 3.5 GHz band
The idea of sharing spectrum in the 3.5 GHz band between government and commercial users is not a new one. As Wheeler noted in his address, it was previously recommended by a presidential council in 2012.
In his address, Wheeler outlined how he would like to see the sharing scheme implemented. Key elements of that proposal include:
Three tiers of prioritization: federal and non-federal incumbents, priority-access licensees and general authorized access users.
A single highly flexible band plan
A flexible auction and licensing scheme that "leverages the technical capabilities of a Spectrum Access System Database"
A wide range of flexible uses
At a 2012 FCC meeting, the FCC talked about using the 3.5 GHz spectrum for small cells.  But Wheeler said that although small cells will "undoubtedly be a core use case, . . . we would not limit the band to such use."