Jennifer Artley got the title of Senior Vice President for 5G Acceleration a year or so ago when Verizon Business decided to take pockets of 5G business development from various areas of the company and put them all under a single person.
Telecompetitor sat down with her at a Verizon Business event in Chicago yesterday to learn more about which 5G enterprise opportunities are the hottest and what's coming next.
Hot Verticals Replace Wi-Fi with 5G
Verizon Business has seen the greatest success with four industry verticals, including manufacturing, warehousing and logistics, ports and large venues, Artley told us.
"We're seeing customers wanting to start with private 5G and then move onto MEC," Artley said. MEC is an acronym for mobile edge computing, which involves moving the cloud closer to end users.
The large venues are adopting private 5G to support several key applications, including cashless checkout, accelerated analytics, and accelerated access. The latter, an opt-in capability, uses facial recognition to help expedite entry to the venue or to keep out those who should not be admitted.
Ports are adopting private 5G as an alternative to Wi-Fi because it eliminates the dead zones associated with Wi-Fi. It's particularly important for ports because large metal containers can block Wi-Fi signals. Complicating matters, the location of the containers changes from day to day.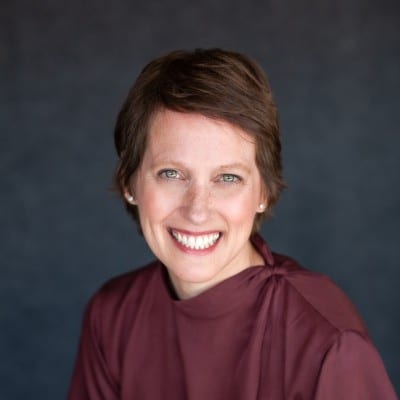 Replacing Wi-Fi with private 5G also makes networks more efficient and easier to manage, Artley noted.
"We took a port with 200 Wi-Fi access points and replaced them with seven 5G receivers," she said.
"Ultimately it's about operational efficiency; 5G enables a level of operational efficiency that a Wi-Fi network won't get you."
5G-Enabled Healthcare Devices Needed
Verizon sees healthcare as important emerging vertical for 5G. Applications include patient check in, infotainment in patient rooms, remote patient monitoring and more.
"Telehealth needs to be more than a Zoom call," Artley said.
Healthcare applications for 5G will begin to take off when more medical devices have 5G connectivity built in, something that's beginning to happen, Artley said.
Some X-ray and blood pressure devices are already 5G-enabled. The Verizon Business 5G event, held at Chicago's Soldier Field, where the Bears play, brought together Verizon employees and enterprise users. Also on hand were key partners such as Ericsson, as well as representatives from some key Verizon Business customers, who shared how 5G had improved operations.