Sponsored Content
The broadband industry is beginning to feel the monumental transformation that 5G brings. This latest generation of wireless will enable some historic technology evolution that will eventually change our way of life. Indeed, the future of 5G is bright.
While it's still early, there are strong indications for this future. Tens of billions of dollars are currently being invested for spectrum and infrastructure in the U.S. alone, with all national carriers well on their way to widespread 5G coverage.
What lies ahead is a plethora of 5G enabled applications and use cases, many of which haven't even been thought of yet. For the broadband industry, understanding this historic shift and its implications couldn't be more important.
Evolution of 5G
We're early in the game, laying the foundation for how we will use the internet in the 2030s. Our early experience with 5G centers on a significant enhancement of the mobile experience. That will be followed by the true enablement of the internet of things, with billions of connections to the network impacting every facet of our daily lives.
The first stage of this evolution, enhancing the mobile experience, is already well underway, and the results are encouraging. If 4G brought the equivalent broadband experience of DSL or DOCSIS to the smartphone, 5G will bring a fiber broadband equivalent experience to it.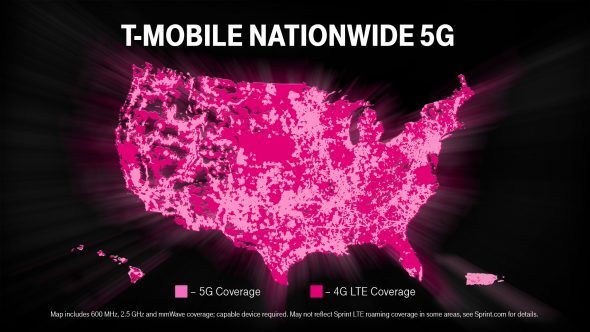 In recent tests performed by industry research firm OpenSignal, Verizon achieved average 5G speeds of 723 Mbps. Verizon achieves higher average 5G speeds than its competitors right now, due to its exclusive use of more robust millimeter wave spectrum, primarily in the 24 MHz and 28 MHz bands. By comparison, Sprint (now T-Mobile), which is using 2.5 GHz mid-band spectrum achieved an average 5G speed of 183 Mbps, according to OpenSignal tests.
The Next Phase – The Future of 5G
While the initial phase of 5G with its emphasis on the mobile experience is encouraging, the next phase will truly bring the promise of IoT to life. Cisco predicts that in North America alone, there will be 5 billion networked devices by 2023.
By leveraging 5G, network operators will be able to capitalize on expanding IoT opportunities, particularly with industry. The business-to-business (B2B) opportunity enabled by 5G represents a dramatic growth opportunity and will be a $700 billion market by 2030 for network operators, according to Ericsson.
[embedyt] https://www.youtube.com/watch?v=Kx-ivTIzkLk[/embedyt]
Applications that 5G will enable include automated factories, smart buildings, drones and autonomous connected vehicles, public surveillance and security, and precision agriculture. IoT applications that look particularly promising to Ericsson include real-time automation, forecast to generate $107 billion by 2030, and connected vehicles, at $89 billion by 2030.
As network operators, wireline and wireless alike, contemplate how to best maximize the future of 5G opportunity, one common attribute is clear. Leveraging the advantages of deep fiber networks is paramount.
Advantage of One Converged Network for 5G
Fiber networks have evolved, and significantly so, much to the advantage of network operators. Legacy fiber network architectures were built to handle single network functions. One network for residential broadband access. Another network to serve enterprise customers. Perhaps another network dedicated to cell site backhaul. All requiring separate network management functions, and maybe even separate workforces. It was an inefficient network of networks.
Times have now changed. Network operators now have the luxury of leveraging a single converged network to deliver all these functions. And just in time for 5G. If ever there were validation of the notion that wireless needs wires, it's with 5G.
In a 5G world, this advantage cannot be understated. As network operators deploy fiber for residential and business FTTP, they can easily add 5G small and macro cell backhaul capability when and where it's needed. The foundation for both wireline and wireless networks can be built from a single network. Cost models developed by Corning show that building one network that enables any wireline and wireless application only increases material costs for that network build by 6%.
Network planning is key, though. A converged fiber network that can simultaneously support wireline and mobile applications requires sound network planning.
Network operators should plan accordingly. Identifying partners with the right solutions and the right experience is key. In a 5G world, you won't get a second chance to get your network planning and your maximum opportunity right. Choose your partners wisely.
Interested in publishing a sponsored post to Telecompetitor? Contact us or call 240-450-2161.