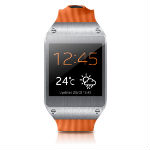 A growing number of information and communications companies including industry super-heavyweights Google and Apple have been touting the benefits of wearable connected devices in recent years. A new research report from CRM software-as-a-service (SaaS) provider Salesforce "confirms that, as one of the hottest segments in tech, wearables are seen as a strategic platform for improving business performance and are an expanding area of investment."
Produced by Salesforce Research, "Putting Wearables to Work: Insights on Wearable Technology in Business" illustrates demonstrates "adopters of wearables are planning to incorporate wearables into day-to-day business processes to improve productivity and connectivity among employees and customers alike."
According to the report:
Seventy-nine percent of adopters agree that wearables are or will be strategic to their company's future success;
Seventy-six percent report improvements in business performance since deploying wearables in the enterprise;
Eighty-six percent of adopters plan to increase their wearables spend over the next 12 months.
The use of wearables in large business enterprises will triple over the next two years, Salesforce says:
Four of the top five growth areas center around improving the customer experience. The four use cases that help improve the customer experience include: real-time access to customer data, hands-free instruction or guides for field service, business analytics and alerts, and remote customer training;
Use of wearables by customers is being led by integration with mobile devices and loyalty programs, point of sale applications and immersive customer experiences.
Wearable Adopter Survey
Smartwatches, the leading wearable tech product, "will have the biggest impact and quickest adoption rate in the enterprise," according to survey respondents. Sixty-two percent said they are using, piloting or planning to use smartwatches in enterprises in the next two years. Examples of use cases include:
Augmented sales intelligence: For a sales team that works remotely or on-the-go, sales reps can use natural language speech input to send information directly from the smartwatch to a CRM system;
Deliver a VIP customer experience: Customer service reps wearing a smartwatch, for example in a retail setting, can be alerted of key customer preferences, allowing them to deliver a high-touch, highly personalized experience.
Digital lanyards and smart glasses rank second and third, respectively, with regard to the impact they're expected to have on enterprises. According to Salesforce's research report:
RFID badges and lanyards can be deployed at a resort to transact payments and manage access to rooms or VIP areas. The devices also generate data, which can be analyzed for insights about better traffic flow within an event site or at particular times of day;
Smart glasses can provide immediate support to remote field service reps. For example, a repairman on an oil rig could connect to technical diagrams via smart glasses that show the steps required for a repair.
Salesforce concludes that collecting and analyzing data from wearable connected devices will be a "game-changer" for big businesses. "Today, only eight percent of wearable adopters say they're completely ready to gain actionable insights from the volume of employee and customer data generated from wearables," the company said. "As adoption in the enterprise accelerates, the influx of wearables-generated data will help businesses make informed decisions in real time."
Development of an app "ecosystem" around wearable tech adoption will fuel and contribute to wearables' use by and impact on business enterprises, according to Salesforce, which notes that:
Thirty percent of adopters cite the lack of business applications as a primary challenge in deploying wearables;
As the app ecosystem grows and new hardware enables more complex business scenarios, the number of companies embracing wearables in the enterprise will dramatically increase.
"Wearables are the next phase of the mobile revolution. Like smartphones before them, the key to success for wearables in the enterprise is all about the killer business apps," said Salesforce Global Director of Strategic Partnerships Lindsey Irvine. "This research demonstrates the tremendous opportunity for wearable use cases to drive significant business value."