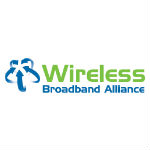 The mix of services that generate carrier WiFi revenues will change substantially between now and 2016, according to a carrier WiFi forecast from the Wireless Broadband Alliance (WBA) and Maravedis Rethink.
Currently wholesale services are the biggest source of carrier WiFi revenues, with mobile network operator wholesale revenues representing 18% of total revenues and cable multiple systems operator wholesale revenues representing 21% of total revenues, according to a survey of WiFi network owners published in this year's WBA Industry Report and released late last week. But those percentages will drop to 10% and 12%, respectively, by 2020, network owners predict.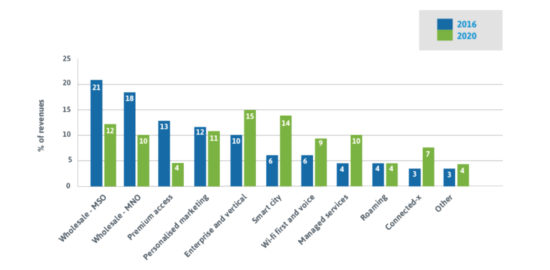 The WiFi services that will generate the most revenues in 2020 will be enterprise/vertical and smart city revenues, which will comprise 15% and 14% of total WiFi revenues, respectively, survey respondents said.
Both of these services typically require interworking with other wireless or wireline networks, suggesting that integration between licensed and unlicensed technologies and wireline connections makes "increasingly good business sense" for network operators, WBA argues in the report.
Carrier WiFi Forecast
Recognizing the importance of the smart city and the Internet of Things (IoT) in general, WBA's report also looked at the types of wireless networks service providers expect to use to support IoT services by 2020. WiFi was one of the most popular technologies for both mobile network operators and cable companies, according to a Rethink Research survey cited in the WBA report. More than two thirds (67%) of mobile operators and 78% of cable companies said they expect to use WiFi to support IoT services by 2020.
Other technologies that network operators expect to use to support IoT services include cellular (noted by 72% of mobile operators and 4% of cablecos in the Rethink Research survey), low-power WAN (noted by 47% of mobile operators and 52% of cablecos) and wireless personal area network (WPAN) technology, which was referenced by 36% of mobile operators and 56% of cablecos.
The WBA report also notes that two-thirds of mobile operators and 78% of cablecos expect to have HaLow and /or local WiFi in their IoT HetNet, which will incorporate multiple communications technologies. HaLow is the brand that the Wi-Fi Alliance has chosen for the 802.11ah version of WiFi, which targets sub-GHz unlicensed bands, including the 900 MHz band in the U.S.
WBA's own mission has expanded beyond its traditional WiFi-centric focus. A year ago the alliance announced its Vision 2020 program, which moved the organization toward a broader platform based around many unlicensed spectrum bands and technologies.