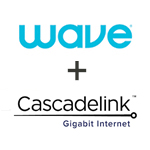 Wave Broadband's acquisition spree continues with the addition of Cascadelink, a competing Internet Service Provider (ISP) that provides symmetrical gigabit services to residential and commercial customers in multi-unit buildings throughout the Seattle area. Terms and conditions of the Wave Cascadelink acquisition weren't disclosed, and the transaction is effective immediately.
Cascadelink's fiber network footprint spans more than than 100 apartments, condominiums and commercial office buildings in the Seattle area. Its 12 Seattle-based employees will have jobs at Wave.
"Since we founded Cascadelink 15 years ago, our priority has been to provide the best internet experience possible, with the unmatched scalability and reliability that a fiber network provides," co-founder and CEO Chris Flugstad stated. "We are excited to join forces with Wave, as their resources enable us to grow faster together while staying true to this mission."
Wave Cascadelink Acquisition
The acquisition strengthens Wave's market presence in its three-state service territory. "Cascadelink and Wave are strongly compatible, as both of our organizations have been focused squarely on providing fast, reliable connections backed by exceptional local customer service," said Wave president and CEO Harold Zeitz.
"We plan to continue providing Cascadelink's Seattle-area customers with the high levels of service they've come to expect while expanding our gigabit services to more business and residential customers throughout our three-state network."
Management sees a smooth transition with no service interruptions as Cascadelink's operations are merged with Wave's. The companies' pricing plans are compatible, and no immediate changes are planned, Wave says.
Wave has been providing gigabit Internet services to customers in the Seattle area since 2008. The Cascadelink acquisition is Wave's 22nd since its founding in 2003.
Last September, Wave announced it had acquired Newport, Oregon-based CoastCom and Vancouver, Washington-based SawNet. The addition expanded Wave's fiber network footprint some 350 route miles.
In late January, Wave acquired Cascade Networks, adding another 350 route miles in the greater Longview, Wash. And Clatskanie, Ore. areas. In addition to fiber and wireless broadband Internet, VoIP residential and business services lines, the acquisition added data center co-location facilities to Wave's portfolio.
Wave connects more than 50 data centers in California, Oregon and Washington. As of the Cascade acquisition, the company's fiber network footprint stretched some 6,000-plus miles.
Wave's acquisition of Cascadelink adds fuel to the fiber network consolidation trend that has been rolling across the U.S. Operating in key West Coast markets, including San Francisco, Sacramento, Seattle and Portland, Zayo in late November announced it would acquire Electric Lightwave (formerly Integra) for $1.42 billion. Electric Lightwave has 8,100 route miles of long haul fiber and 4,000 miles of dense metro fiber in Portland, Seattle, Sacramento, San Francisco, San Jose, Salt Lake City, Spokane and Boise, with on-net connectivity to more than 3,100 enterprise buildings and 100 data centers.
Both Wave and Zayo are intent on further expansion, which may make them attractive acquisition targets in their own right.