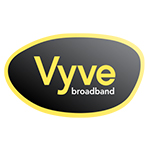 Vyve Broadband is offering businesses 250 Mbps broadband tiers in almost 100 rural markets in six states, the company said this week. The Vyve business 250 Mbps offering is available only to businesses, according to the company, which specializes in non-urban areas.
"We are so excited about the work we're doing for both our residential and commercial business customers in Vyve communities," said Jeffrey DeMond, Chief Executive Officer for Vyve Broadband in a press release. But this 250 Mbps service for businesses feels really special for us. Vyve is committed to helping power the businesses that are powering the economy of these small towns and communities."
The broadband carrier serves customers in Oklahoma, Texas, Arkansas, Kansas, Louisiana, Tennessee, Georgia, and Wyoming. The company didn't specify which markets are getting the Vyve business 250 Mbps service. The new offering complements Vyve's custom fiber business product, the company said. The Vyve Gig is available in some markets and testing in others, the company said.
Vyve has been systematically speeding its network. In July, it said that 80% of its markets deliver speeds of 200 Mbps. In January, the company said that it had begun providing 1 Gbps service to Shawnee, OK.