Amazon controls 70 percent of the fle
dgling U.S. market for voice controlled speakers, according to a new voice controlled speaker forecast from eMarketer. Furthermore, Amazon's Echo will remain dominant as consumer uptake leaps higher this year, capturing a 70% voice controlled speaker market share.
Google Home will run a distant second to Amazon Echo, earning a market share of 23.8 percent, while a small host of others, including Lenovo, LG, Harmon Kardon and Mattel, will make up the remainder.
Looking further ahead, eMarketer expects Amazon's market share will drop, but only slightly, in coming years. The market research provider expects Google Home's voice controlled speaker market share will grow in parallel.
Voice Controlled Speaker Forecast
More broadly, eMarketer forecasts 35.6 million Americans will use a voice-activated digital assistant device this year, a rise of 128.9 percent year to year.
"Consumers are becoming increasingly comfortable with the technology, which is driving engagement," eMarketer VP of forecasting Martín Utreras commented. "As prices decrease and functionality increases, consumers are finding more reasons to adopt these devices."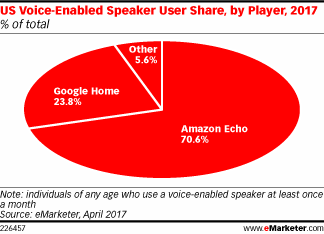 eMarketer defines a voice-enabled speaker as a standalone device whose core functionality is a voice-enabled digital assistant, as is the case with both Amazon Echo and Google Home.
Virtual assistants – the actual software that forms the guts of voice-enabled speakers and other devices — is a broader category that includes Amazon's Alexa, Apple's Siri, Google Now and Microsoft's Cortana. eMarketer expects use of voice-enabled assistants will grow 23 percent year-over-year in 2017.
All told, 60.5 million Americans will use one or another of these virtual assistants at least once a month during 2017, according to eMarketer. That would translate to 27.5 percent of smartphone users, or one-fifth of the U.S. population.
Not surprisingly, young adults 25-25 will be the heaviest voice assistant users, the market researcher continues. More than one-third of Millennials (33.5%) will do so this year, eMarketer forecasts. Added Utreras: "Older millennials are the core users of virtual assistants, mainly due to their demand for functionality over entertainment."