Consumers will be buying a lot more virtual reality headsets (VR) in coming years as smartphone and high-tech vendors launch aggressive promotional campaigns, according to a new virtual reality headset penetration forecast from IHS Markit.
VR headset use will surge from 4 million in 2015 to 81 million in 2020, with new VR solutions, such as Google's Daydream View, contributing, the market research provider highlights in a press release about the virtual reality headset sales forecast. Consumers will spend $7.9 billion on VR headsets by that time, and $3.3 billion on VR entertainment, IHS Markit predicts in its ¨Virtual Reality Market Opportunity Report 2016.¨
In the near term, Sony's Playstation VR will lead the way among OEM VR offerings in 2016, outpacing sales of Oculus Rift and HTC Vice. Samsung's Gear VR will wind up with the largest installed base among smartphone VR OEMs at 5.4 million.
Revenues for content will come primarily from owners of high-end devices, according to Piers Harding-Rolls, IHS Technology director of games analysis. "While the VR headset installed base will escalate significantly to 81 million by 2020, we predict that expensive, higher-end headsets will dominate content monetization.
"There will be a polarization of the VR market between lower volume premium VR headsets, which will have strong paid content conversion rates, and higher-volume cheaper smartphone VR headsets, which will monetize content at a lower rate."
Virtual Reality Headset Penetration
More affordable, smartphone VR headsets represent the largest market opportunity, added Ian Fogg, IHS Technology senior director. ¨The smartphone VR base will be a major opportunity for VR content experimentation. Smartphone VR headsets' share of the VR installed base will be 87 percent at the end of 2016."
IHS Markit anticipates Samsung having the largest installed base of smartphone VR headsets by the end of this year. Google's next-generation Daydream View VR headset will eat into Samsung's market share over time, however.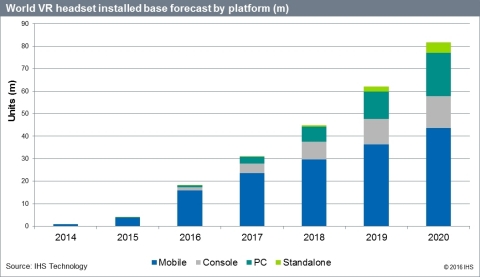 The high price of Google's first-gen Pixel VR headset will mean it won't make much of an impact in the smartphone VR market space, but IHS Markit expects Daydream View will be the most popular smartphone VR headset come 2019, thanks in part to a $79 selling price that offers a premium VR experience, the market research provider says.
At the other end of the price spectrum, introduction of high-end VR headsets from Sony, Oculus and HTC will fuel sales in 2016, which according to the IHS Markit virtual reality headset sales forecast, will reach $1.6 billion.
Average sales prices will approach $85, sharply higher than an average $25 in 2015 and continue rising subsequently, according to IHS Markit, shooting up to $191 in 2017.
Sony's Playstation VR will outsell Oculus Rift and HTC Vive combined this year. The company's conservative inventory policy will translate into supply bottlenecks, however, IHS Markit says.
The market research provider points out that Playstation VR comes cheaper than competing PC VR products. Playstation 4's market base is also much larger than that for VR-ready PCs. The installed base of PS4s will reach 53 million by year-end, according to IHS Markit.
"Sony is well positioned to build an early lead in the high-end VR headset race because of its large addressable market of 53 million PS4s by the end of 2016, its lower total cost of ownership compared to the PC VR companies and its ability to get big franchises into VR," Harding-Rolls said.
"With VR content and users strongly aligned with the games market, Sony already has in place many of the components necessary to deliver to this new VR entertainment segment at the expense of its competitors."
Turning to VR entertainment, IHS Markit predicts sales will reach $310 million this year on the way to $3.3 billion in 2020. "A $3.3 billion VR entertainment market by 2020 will represent less than 1 percent of overall entertainment spending worldwide," Harding-Rolls noted.
"There is certainly more to be done in terms of premium content for VR platforms and it will take time to deliver on the potential of the technology."
Not surprisingly, young adult Millennials will fuel rapid growth in VR sales and usage, according to recently released research from Parks Associates. Twelve percent of male and five percent of female Millennials said they intend to buy a VR headset this year, according to Parks, twice the percentage among other age groups.
Image courtesy of flickr user Nan Palmero.