The launch of "skinny" streaming TV and video service bundles by OTT providers, such as YouTube, poses the latest real and present danger to incumbent cable, satellite, and telco pay-TV vendors. A more recent market entrant in the U.S. and internationally, Virtual Multiple Systems Operators, or VMSOs, are more direct competitors to traditional pay-TV providers than OTT video subscription service providers such as Netflix or Amazon, however, according to new market research from Ampere Analysis.
VMSOs are offering slim channel line-ups starting as low as $20 a month, and they have low subscriber acquisition costs, which gives them a leg up on the pay-TV competition, Ampere highlights. As a result, the market research provider forecasts the VMSO subscriber base could reach 3.5 million by year-end.
Virtual MSOs
VMSOs are also targeting technophiles – younger, connected, tech-savvy families, Ampere points out. That includes those 25-44 years old, the age group most apt to "cut the cord" on their traditional pay-TV subscriptions or opt to subscribe to OTT TV and video services from the outset.
Pay-TV and OTT subscription streaming service subscribers value content and convenience, according to Ampere's consumer research. Offering a comprehensive, core line-up of TV and movie channels easily accessible across devices and platforms is therefore essential if VMSOs are to prove successful. In addition, VMSOs face a substantial challenge when it comes to ensuring a high-quality streaming video experience given the diversity of platforms and devices being used to stream TV, film and other types of video content.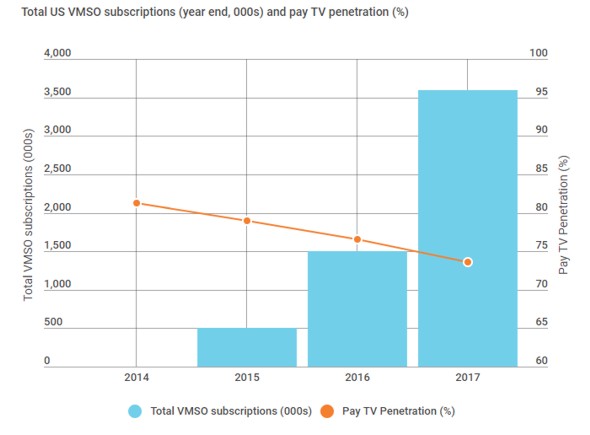 Low subscriber acquisition costs as compared to traditional pay-TV providers is one key advantage VMSOs have, however. A third-party provider avoids the financial burden of having to build out and maintain infrastructure, or install devices and equipment on premises. According to Ampere, traditional cable or satellite multiple systems operators' (MSO) infrastructure and installation costs can be $800-$900. A virtual provider avoids these by making use of cheaper third-party hardware and customer self-installation.
That flexibility does come with a cost, however. Short VMSO contracts and lack of proprietary hardware makes it easier for VMSO subscribers to switch providers, the market research company points out.
Putting competitive pressure on VMSOs, broadcasters have been demanding they pay high per-subscriber fees. For example, Sling TV subscribers pay $5 per month for ABC channels/affiliates in select markets, Ampere notes. It has been reported that CBS asked for more than $3 per subscriber from Hulu. Taken together, Ampere estimates it could cost a VMSO subscriber around $12 per month to access Fox, ABC, CBS and NBC channels.
Ampere lays out what it sees as additional, key facts regarding VMSOs as follows:
VMSOs are maximizing the consumer shift away from 'traditional' pay TV services. These online services aggregate a mixture of linear and on-demand content.
The services offer cheaper, 'skinny' packages of channels compared to cable and satellite, with entry prices from $20-$40 per month. This is considerably less than pay TV average revenues per subscriber (ARPUs) of $80-$90 per month.
Existing VMSOs include Dish Network's Sling TV, AT&T's Directv Now, Sony's PlayStation Vue, Google's YouTube TV and Hulu's Live TV. Verizon and CenturyLink are also poised to join the fray.
The addressable market for VMSOs is already large. In 2016, 60% of US broadband households had internet speeds of 10Mbps or more, the minimum recommended speed for most VMSOs.
By contrast, cable, satellite and IPTV services continue to struggle. Household penetration dropped below 80% in Q3 2015 in the US and continues to decline, reaching 76.5% at the end of 2016. Ampere Analysis forecasts that pay TV penetration will drop below 70% before 2020.
The prevalence of 24-month pay TV contracts in the US means VMSOs must fight to win subscribers in these first few years, and wrestle customers from incumbents.