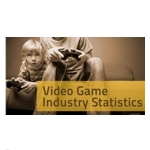 Daily Infographic provides us with some interesting data points about video game usage. This infograph–a compilation of stats on one topic rendered in graphics–informs us that video games generated $10.5 billion in revenue in 2009— $0.5 billion from computer game sales and $9.9 billion from video game sales, according to NPD research. Perhaps surprisingly, the average age of video game players in the US is 34.
Not only that, but playing computer/video games is more of a group, family-oriented activity than may be commonly perceived: 70% of US households engage in playing games. Half the number of parents responding to a recent survey said they play a video game with their child at least once a week.
According to Daily Infographic's post on video games inserted below the post), in 2010:
The average gamer spent 8 hours a week playing video games in 2010;
41% of male gamers used Wii; 38% Xbox 360; 21% PS3 in 2010;
Parental supervision is an issue of concern when it comes to the video games children and minors play. Research finds that:
76% of parents that parental controls are useful;
Parents impose time limits on video games more than any other form of entertainment;
83% of parents impose time limits on their children's video game playing; 78% on TV viewing; 75% on Internet usage and 66% on movie viewing;
Parents were present 93% of the time games are purchased or rented;
64% of parents believe games are a positive part of their children's lives;
Children receive their parents' permission before purchasing or renting a game 86% of the time;
Parents said they sometimes or always monitor the games their children play 97% of the time.
Some demographic stats from the Infographic post:
The average age of who most frequently purchase video games: 39;
The average number of years adult gamers have been playing video games: 12 years;
49% of gamers were 18-49 years of age in 2010; 25% were under 18; 26% were over 50;
40% of all gamers are female;
80% of female gamers used Wii; 11% Xbox 360; 9% PS3.