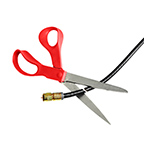 Despite all of the publicity cord-cutting is receiving, those who still have cable, satellite or telco television service plan to keep it, according to a new video cord cutting survey from GfK MRI.
Nearly three in four (71%) of all US consumers who have cable, satellite, or telco TV service have no plans to drop it. The figure is highest among the oldest age group (50 and over, 80%), dropping from there. Nearly seven in 10 (69%) in the 35-to-49 age group have no cord-cutting plans. For the 18-to-34 age group, the figure is 58%.
Somewhat surprisingly, a significant number of pay-TV subscribers are adding – not cutting — corded services rather than replacing them, with more than half (55%) of pay-TV "loyalists" stacking subscription streaming video or other services on top of cable or satellite access. More than three quarters (76%) of 18-to-34 loyalists are "stackers."
"The fact is that pay-TV services still account for most of the TV watching that happens in the US," said Amy Hunt, VP of TVideo Media Sales at MRI, in a prepared press release about the video cord cutting survey. "Many of their subscribers simply cannot imagine a new way of doing things. But as younger generations more comfortable with streaming technologies set up households, cable and satellite companies need to find ways to remain attractive and relevant."
More than half (52%) of older (50-plus) pay-TV loyalists have never streamed and only access TV through traditional pay-TV services.
A 2017 video cord cutting survey from Tivo found 17% of U.S. households without pay TV.