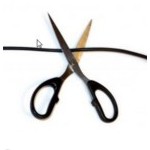 The latest research from Leichtman Research Group (LRG) reveals that the pay-TV industry lost a whopping 0.1% of subscribers to video cord cutting in 2013. That equates to 105K subscribers from a total multichannel pay-TV universe of 94.6 million subscribers. Hardly the crisis of video cord cutting that gets much of the headlines these days, at least according to LRG's analysis.
The news is somewhat sobering for the traditional cable MSO industry according to LRG. Collectively, the largest cable MSOs lost 1.7 million video subscribers in 2013. But telcoTV gains of 1.46 million and DBS net adds of 170K offset the cord cutting trend.
"2013 was the first year for multi-channel video industry losses, but the modest losses represent only about 0.1% of all subscribers," said Bruce Leichtman, president and principal analyst for LRG in a press release. "While the overall market remains fairly flat, further share-shifting has taken place. Cable providers now have a 52% share of the top multi-channel video subscribers in the US, compared to a 58% share three years ago."
Last year was a year of note because it is the first time there has been a decline in pay-TV subscriptions. Perhaps it's the start of a slow moving trend that will become more impactful over time.
The real impact probably won't come for some time though. From my vantage point, the issue to be concerned about is not cord cutting, it's 'cord nevering.' That is, younger people who are now in their teens and twenties who lost interest in pay-TV a while ago, and are unlikely to subscribe to a pay-TV service as they move into head-of-household status. At least not subscribe to a multichannel video package as we define it today.
For them, a hefty broadband pipe into the home and on the go may fuel their video appetite through a broadband TV type package, the business and revenue details of which are still being worked out.