In five years, more than half of U.S. broadband households – 58 million homes — will not use a service from a multi video programming distributor (MVPD), according to a video cord cutter forecast from The Diffusion Group (TDG). In the process, the sector will lose 36% of its current subscriber base.
The atrophy between 2020 and 2025 will about four times that of the prior five -year period. The category will lose 36%, of its 2020 subscriber base.
The current video cord cutter forecast reflects subscriber loss greater than TDG's previous worst case scenario. In 2017, the company predicted that there would be between 83.5 million and 87 million MVPD subscribers, with the likely landing point at the lower end. At the end of last year there were 81 million, which was below TDG's least-optimistic forecast.
Last year, the firm modified its predictions. The new assessment is that the fourth quarter of this year would land between 75.7 million and 76.7 million subscribers. As of the second quarter, there were a bit more than 77-million legacy subscribers. This means that the forecast is on track.
"For the last decade, TDG accurately anticipated the rate of legacy's decline and the sluggish growth of vMVPDs," TDG President and Principal Analyst Michael Greeson said in a press release about the video cord cutter forecast. "However, our 2017 forecasts underestimated the growth in cord-cutting and overestimated the uptake of vMVPDs. Beginning in 2007, our 5-year forecasts have been eerily accurate, but it was obvious that 2017 forecasts needed to be tweaked. We were within 5%, but at two years out versus five."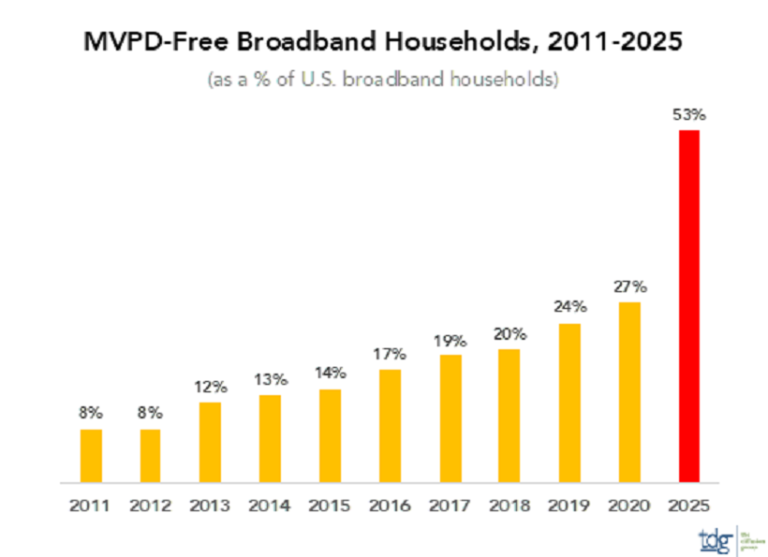 TDG's second quarter video cord cutter forecast and research suggested that cord cutting was slowing. The firm cautioned, however, that the slow down was an anomaly and indeed the rate increased during the third quarter.
The assumption that cord-cutters automatically move to vMVPDs should not be made, at least based on other analysis. In May 2019, MoffettNathanson released research that found that only 40% of the 1.4 million traditional linear pay-TV subscriber that was lost in that year's first quarter was recaptured by vMVPD providers.