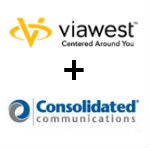 Consolidated Communications has reached a partnership agreement with data center operator ViaWest to resell services delivered from a ViaWest data center in Dallas. The move represents another element of Consolidated's push into the Dallas business market begun last year.
"We continue to see demand grow for enterprise quality data center space from our customers," said Ed Butler, Consolidated vice president of sales, in a press release about the agreement. "Partnering with ViaWest gives us a first class data center product for our Dallas-area customers looking for a local solution and for customers in our other markets who are seeking a geographically diverse option for their data needs."
ViaWest/ Consolidated Deal
Consolidated has been heavily focused on the broadband and business markets to find new revenue sources to replace declining revenues in its traditional voice business. The company has taken its business offerings into metro markets and pursued acquisitions of other companies including SureWest and Enventis with broadband and business operations in metro markets.
That strategy seems to be working as Consolidated has seen business and broadband revenues represent as much as 80% of its revenues in recent quarters.
ViaWest concentrates on the high end of the data center market and even has a Tier IV data center. The Tier IV rating indicates that a data center is highly secure and reliable and is so difficult to achieve that ViaWest claims to be the only North American to have it.
The Dallas data center isn't the one with the Tier IV rating, but according to Via West, its data centers support "high-end data center services," which Consolidated will now be selling.
Features of the North Texas data center from which Consolidated will be able to sell services include:
100% SLA for power, bandwidth and network services availability
24x7x365 on-site support
Customized colocation hosting and managed services