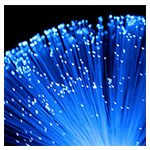 More than 300 million people, representing more than 4.2% of the world's population, now have access to gigabit internet, according to new data from Viavi Solutions, a test equipment provider that has conducted the study annually for three years. Researchers saw a 38% increase in worldwide access to gigabit service since May of 2017.
A major reason for the increase was a jump of 74 million people with access to gigabit LTE, according to Viavi.
Worldwide Access to Gigabit
The largest regional contributor to the growth, according to Viavi, was the United States. More than 64 million people in the U.S. now have access to gigabit internet. South Korea took second place in the Viavi rankings, with gigabit internet access for 46.9 million. Other countries with more than 15 million people with access to gigabit internet were Spain, 30.1 million; China, 20.7 million; and Canada, 15.7 million.
Singapore has the highest percentage of the population with gigabit internet access, with it available to 95% of the population. Ninety-three percent of South Korea's population has gigabit internet access, followed by Moldova, 90%; Qatar, 78%; and Spain and Portugal, each with 65%.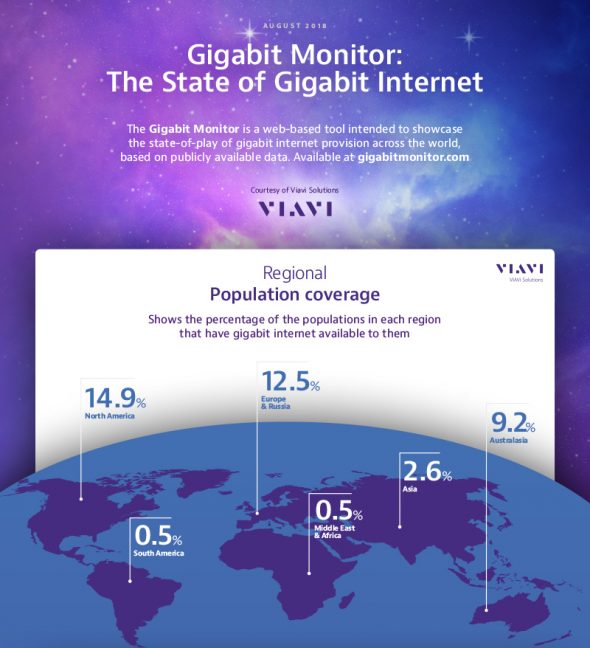 The report adds that fiber has increased its global share of gigabit deployments to 90.4%. Much of this amount is due to micro scale deployment – mostly in the U.S., where populations as small as 300 people are being served with gigabit internet.
"It is fascinating to see how public and private companies and even governments are pushing for gigabit internet to become an economic enabler for their customers, citizens or their own businesses," said Sameh Yamany, Viavi Solutions chief technology officer, in a prepared statement. "During the last 12 months, gigabit internet deployments have increased by 38 percent, demonstrating that the global pace of deployment is progressing strongly.
"Beyond the top-line figures, the major story that we are seeing is how the shape of gigabit internet provision is changing. For the first time, gigabit LTE has now become a significant force in gigabit provision, as 74 million people around the globe have access to it. But whether it is fiber, HFC, LTE or 5G in the near future, the onus is on service."
Image courtesy of flickr user Matthew Wilson.