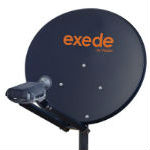 Satellite broadband services provider ViaSat on November 18 introduced a new, faster wireless modem and service plan for the home. Able to provide satellite broadband speed of  up to 25Mbps, ViaSat's Exede WiFi Modem doubles their current fastest offer of 12 Mbps.
A satellite broadband speed offer of 25 Mbps puts Exede broadband on par with many cable offers and exedes the average DSL offer, ViaSat reports in a news release. The faster 25 Mbps tier is priced $10 more per month than current offers, starting at $69.99/month unbundled, with a 10 GB data cap. Pricing for higher data caps, as well as lower priced promotional offers are available.
A new Exede gateway offers a Wi-Fi wireless router, multiple gigabit Ethernet ports and an integrated voice adapter that provides optional home phone service connectivity. The integrated Wi-Fi supports IEEE 802.11 a/b/g/n Wi-Fi network connectivity via the 2.4GHz or 5GHz frequency bands. It also supports WPS, WEP and WPA security standards.
"We have a history of revolutionizing satellite internet, and today we unveil the Exede WiFi Modem with more than double our previous speeds,¨ Lisa Scalpone, vice president of ViaSat Broadband Services, was quoted as saying. "It's just a hint of what's to come as we prepare for the launch of our next satellite, which will offer even faster speeds nationwide."