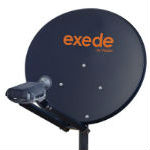 With promised 100 Mbps satellite broadband capability, ViaSat expects to deliver a major boost in broadband performance from its next generation of satellites, scheduled for "integration and delivery" in 2019. The satellites are targeted to provide residential service at speeds of 100 Mbps or higher and to support 4K ultra-high definition video streaming. ViaSat also expects to deliver gigabit service for use in maritime and oceanic applications and for enterprise applications such as oil and gas platforms.
In comparison, ViaSat's current generation technology delivers speeds of up to 25 Mbps.
ViaSat-3 100 Mbps Satellite Broadband
ViaSat's name for the planned 100 Mbps satellite broadband platform is ViaSat-3. The platform will consist of three satellites, with two focused on the Americas and Europe, Middle East and Africa. A third satellite system will target the Asia Pacific region.
According to ViaSat, the first two satellites "will deliver more than twice the total network capacity of the approximately 400 commercial communications satellites in space today – combined."
Other notable features of ViaSat-3:
Each satellite will deliver more than 1,000 Gbps or 1 terabit per second(Tbps) of capacity
The system will be able to dynamically and continually direct capacity where customers are located
The system will use cloud technology for network processing and operations
Service will be compatible with ViaSat-2 terminals
ViaSat's news comes at a time when the U.S. is considering how to make broadband service available nationwide, including costly to serve rural areas. Policymakers anticipate relying on satellite service for some of the most remote and highest-cost areas.
Drawbacks to satellite service include service deterioration during severe weather and higher latency in comparison with terrestrial broadband service. Satellite service providers say they have made enhancements to the service to improve the quality of real-time voice communications to compensate for latency issues.