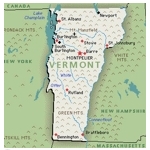 A contest in rural Vermont has helped generate new broadband apps and ultimately should help fuel greater broadband usage, reports Craig Settles in The Daily Yonder, a news website devoted to rural issues and interests.
The contest was open to businesses in three counties in northeastern Vermont—an area known as the Northeast Kingdom—and it offered cash prizes to businesses that developed plans for effectively using the Internet. Eight local businesses and Internet service providers sponsored the contest, which offered cash prizes valued at a total of $7,000 as well as web-related services valued at $15,000.
About 50 companies entered the contest and several won prizes, including a manufacturer of cedar fencing, a hair salon, a bookstore/coffee shop, a guitar maker and three nurseries, Settles reports. And even companies that did not win a prize found the process of entering the contest to be beneficial.
As Settles explains, the contest was spearheaded by a married couple that had been involved in broadband projects for the Vermont Council on Rural Development, including one in the Northeast Kingdom.  The Vermont contest known as e-Nek included a mentoring program for contestants that featured webinars conducted by web development professionals, as well as on-line message boards.
Contest winners were required to use their winnings to implement their plans, and several said they have seen business benefits as a result. For example, the hair salon added a section to its website focused specifically on weddings and saw a significant increase in bridal party business.
As Settles notes, contests of this nature already have generated substantial interest in larger communities, such as Kansas City, where Google is building a high-speed network, and Chattanooga,  which already has a high-speed network. But as the experiences in Vermont illustrate, such contests do not have to be restricted to more urban markets.
According to Settles, there are several important lessons that communities can learn from a contest such as the one in Vermont. "First and foremost, the contest does not have to have a high price-tag to be successful," writes Settles. "However it does require a significant commitment of time from several people. Second, the mechanics of how the contest was conducted . . . was valuable in helping all contestants improve their web sites, even if they didn't win any prizes." In addition, he said winners tended to spend their prize winnings locally, keeping money flowing inside rural communities.
Sounds like a blueprint that service providers in other rural areas could use to help businesses in their community experience the benefits of broadband connectivity.