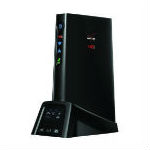 Verizon launched a new 4G LTE powered broadband router for the home today, which offers voice and data services, powered by wireless 4G. Verizon wireless customers can use the router to get voice service and home broadband service for a bundled price of $30, provided they already subscribe to a Verizon Wireless "Share Everything" plan. While it's not well positioned as a landline broadband replacement today, it may well be soon.
The Novatel device sells for $30 when purchased with a two-year voice and broadband contract (or for $50 if purchased with only broadband or only voice, but not both). The offer doesn't serve well as a landline broadband replacement because it's usage is subject to Verizon Wireless monthly broadband usage caps. All other devices within the designated Share Everything plan contribute to the usage caps, making it a less than desirable replacement for landline DSL, cable modem, or FTTH.
It may work for lite broadband users though. It allows up to 10 Wi-Fi connections and offers three Ethernet ports, in addition to a phone jack.  Verizon already offers multiple ways to replace wireline voice and broadband services for the home with wireless-based products. Their Home Phone Connect service offers a fixed wireless service for home phone service, which can be purchased as a standalone product or added as an additional line on a wireless contract.
Their Home Fusion service is a fixed wireless service for broadband, offering speeds of 5 Mbps to 12 Mbps on the downlink and 2 Mbps to 5 Mbps on the uplink, starting at $60/month. Home Fusion is also subject to broadband caps of 10 GB to 30 GB, depending on the plan selected.
The 4G LTE powered broadband router, which Verizon claims offers similar performance to Home Fusion, appears to be bridging these separate landline replacement options into a single offer. While this latest effort isn't a great landline replacement option today, it does demonstrate the capability of 4G LTE to infringe on traditional landline voice and data bundles.  Customers will be able to add unlimited local and long distance voice for their home for $20.
After a little bit of market study, Verizon and other 4G providers may well adjust the pricing, performance, and bandwidth allotments to make this voice and data bundled offer a more attractive landline cord cutting option.