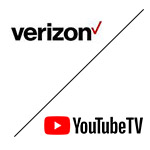 Verizon made two announcements regarding their upcoming residential 5G broadband service today. Verizon's residential 5G video strategy has become a little more clear, with both YouTube TV and Apple TV 4K devices to be featured.  Indianapolis was also identified as the fourth kick-off market for the fixed wireless 5G service targeting the residential home market.
An initial Verizon press release touted all of the capabilities of the Apple TV device, which includes access to 4K and HDR content, but did not reveal the YouTube TV relationship. Details are a little sketchy at this point but a Verizon spokesperson did confirm with Telecompetitor that Verizon will partner with YouTube TV for these first four markets (later confirmed by an additional Verizon statement). The first four announced 5G markets also include Los Angeles, Houston, and Sacramento.
Verizon has been somewhat coy about a video partner for their 5G launch to date. Past statements from Verizon executives made it clear that the company will not be developing its own OTT video service, but did suggest they planned to partner with an existing streaming provider. Apparently Google's vMVPD service, YouTube TV, has won that crown.
"Verizon today announced it will offer Apple TV 4K as part of its 5G residential broadband package launching in four markets this year, including in Indianapolis," the company states in a press release, with little additional detail.
Verizon offered no pricing information for these new partnerships (see update below). Will they provide a discounted price for the Apple device, which currently starts at $179 ? Other providers, including AT&T's DIRECTV NOW have run promotions that offer up heavily discounted Apple TVs. I wouldn't expect any significant discounting for YouTube TV, given its razor thin margins. The Verizon spokesperson said pricing information will be revealed closer to launch. She did not provide any firm launch date.
This story is developing and we'll offer updates as warranted.
Update: There are a few media reports suggesting that Verizon will offer either of these options, a YouTube TV subscription or an Apple TV 4K, for free to new residential 5G subscribers. A Verizon spokesperson responded to a Telecompetitor inquiry and clarified that these reports are premature and perhaps inaccurate, saying "We have not provided details around any introductory offers or pricing, so these reports are not accurate."
Even with this clarification, it wouldn't be surprising to see some form of aggressive pricing or even "free offer" promotion, perhaps the first three months for YouTube TV, to be featured during Verizon's 5G roll out. They'll want to make a big splash and will be competing with cable company bundles, so they will need to be aggressive to convince subscribers to switch to a new unproven wireless technology. Stay tuned.